Articles
10 11.10.
First Governing Board meeting: Interview with Mr. Duško Radaković (Serbia)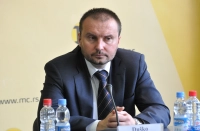 Mr. Duško Radaković is Governing Board member at Ministerial level and State Secretary, Ministry of Public Administration and Local Self Government (Republic of Serbia)
How do you perceive the importance of the institutionalisation of ReSPA for the Republic of Serbia, particularly in the context of strengthening Serbian administrative capacity?
The process of strengthening administrative capacity, as a part of the overall public administration reform, is one of the most important tasks in the process of EU integration. The institutionalisation of ReSPA contributes to the acceleration of this process, as has been recognised in the Serbian Strategy of Public Administration Reform, adopted by the Government of the Republic of Serbia in 2004, and the Action Plan for Public Administration Reform Implementation 2009 - 2012, adopted by the Government in 2009.
As a member of the Governing Board at Ministerial level, you will have the opportunity to collaborate with the Ministers of five countries in the region that have so far ratified the International Agreement establishing ReSPA. How would you assess this cooperation after the first meeting in Danilovgrad?
My perception is that this meeting was introductory in nature, and I am really sorry that colleagues from Albania, Bosnia and Herzegovina and Macedonia were not present in order to get a more comprehensive impression. As far as colleagues from Croatia and Montenegro are concerned, I'm sure that successful cooperation lies ahead of us, based on my first impression.
Finally, what are your expectations regarding the future work of the Governing Board and ReSPA?
My expectations are to have the Governing Board operational, to undertake concrete activities, and to meet together several times per year, whereby these meetings will contribute to successful work and exchange of experiences. I'm sure this is the right way for all of us in order to reform the administrations of our countries and thus to meet the EU standards and the expectations of our citizens, as well.
Archive