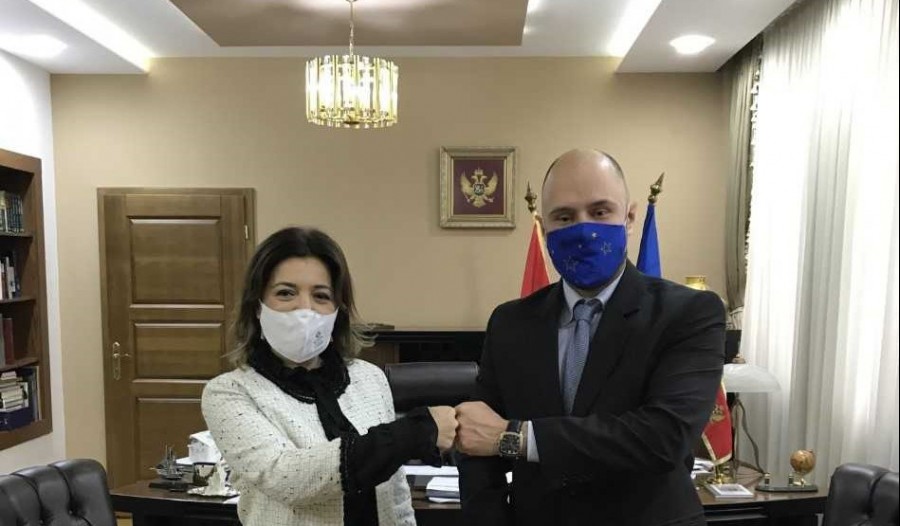 The government of Montenegro and ReSPA responsible and reliable partners
---
The Minister of Foreign Affairs, Mr Đorđe Radulović, met the Director of ReSPA, Ms Ratka Sekulović, and he said that Montenegro will continue to build a strong partnership with ReSPA.
He highlighted that Montenegro will support all activities with the aim to reform the public administrations, and especially those in the areas of digitalisation, development of e-administration and improvement of Information and Communications Technology.
The Head of Montenegrin diplomacy added that the partnership with ReSPA encourages promotion of improvements made to the standard of public administration, which is an important area on the path to European accession.
He also stressed that Montenegro firmly believes in the importance and value of regional cooperation, and that it is completely devoted to establishing both good relationships with the neighbouring countries and regional cooperation, as one of the pillars of Foreign affairs.
The Director of ReSPA, Ratka Sekulović thanked Mr Radulović for the reception and congratulated him on being appointed to the position of Minister of Foreign Affairs.
She spoke about ReSPA's recent activities, and reminded that the organisation celebrates its 10th anniversary. The success and achievements of this international organisation have been recognised by the European Commission, as well as by other regional institutions, said Ms Sekulović.
Ms Sekulović highlighted the importance of activities with the aim to improve the capacity and the database network in public administration, especially when we talk about joining the EU. ReSPA is seen as an innovative regional centre with a wide range of activities in all areas important to the development of the society.
They both agreed to continue to discuss all issues of mutual concern, especially the issue of European accession.