About PA Awards
---
Public Administration Awards 2022 : The Call is Closed!
ReSPA and OECD/SIGMA would like to give a HUGE thank you to all the participants in the Public Administration Awards 2022 for their devotion and willingness to participate in this unique endeavor.
We are extremely pleased with the high number of submissions! This year there are almost twice as many applicants as in the first round PA Awards!
The Public Administration Awards in the Western Balkans (the PA Awards) are unique awards system initiated by ReSPA and OECD/SIGMA aimed to enhance governance initiatives and support the establishment of strong public governance systems in the Western Balkan region.
The core mission of ReSPA and OECD/SIGMA is to enhance governance initiatives and support the establishment of strong public governance systems in the Western Balkan region.
To promote and recognise outstanding efforts in public administration, ReSPA and OECD/SIGMA are launching a second round of Public Administration Awards in the Western Balkans.
The focus of the 2022 PA Awards is on recognising the provision of better public services to improve the lives of citizens in the Western Balkans. More specifically, the Awards will recognise the efforts of governments to apply the lessons learned from tackling the challenges of the pandemic, including strengthening the capacities of governments and public administrations to cope with the wide-ranging socio-economic consequences of such unprecedented grand challenges.
At a time when the world is faced with multiple crises, including economic, political, environmental and even virological uncertainties and risk, the public sector must strive to be as responsible, resilient and sustainable as possible in order to ensure socio-economic recovery and prosperity and ultimately improve the wellbeing of citizens.
Achieving this aim requires innovative and long-term perspectives to provide better services for citizens. In addition to meeting citizens' needs and increasing public sector efficiency through the adoption of new technologies and methods, governments need be oriented to the future and responsive to changing public needs and demands.
To ensure that governments are more responsive and sensitive to societal changes, a forward-looking perspective must be embedded in public administration processes and service design. A key task for the public sector in the Western Balkans, therefore, will be to harness ongoing innovations to meet public demands for improved services.
This is why the 2022 PA Awards will recognise efforts in three thematic areas: (i) Digital transformation of the public sector and its services; (ii) Quality management for improving public services; and (iii) A public administration for all.

Awards Objectives and Purpose
The PA Awards aim to be a valuable and powerful framework for rewarding, highlighting and sharing best practices to improve the capacities of public administration throughout the Western Balkans and enable the rapid adoption of successful solutions and lessons learnt.
More specifically, the purpose of the 2022 ReSPA and OECD/SIGMA PA Awards is to
identify
analyse
select
reward
promote
transfer, and
learn from creative, innovative and inspiring practices, initiatives, services and measures by governments that lead to better public services to improve the lives of citizens in the Western Balkans.
The Awards will highlight public administration efforts that advance, promote and anchor innovative, effective, inclusive and adaptable tools and systems in Western Balkan public administrations that have upgraded the quality of their service delivery and contributed to improving people's lives at a time of rapid social change.
By recognising outstanding achievements in the public administrations of the Western Balkans, including their efforts on the path towards EU membership, the Awards will make a strong contribution to stability and sustainable development in the region.
The PA Awards provide a unique platform for sharing and transferring knowledge and insights, improving communication and strengthening regional co-operation. Such exchange and co-operation is crucial to ensure governments are better prepared for the challenges that lie ahead.
The PA Awards 2022 will make an active contribution to the mandate, vision, objectives, and mission of both ReSPA and OECD/SIGMA. These key objectives are to support:
Better Regulations
Good Governance
Digital Government
User-Centred Service Delivery
Quality Management
Public Administration Reform (PAR)
Public Financial Management
Human Resource Management and Development

Awards Category
The provision of better services to improve the lives of citizens is the overarching theme of the 2022 PA Awards. The Awards will highlight future-oriented innovative elements, solutions, systems, tools and approaches introduced by public administrations. In particular, the Awards will recognize efforts that have gone beyond responding to the immediate challenges of the pandemic to develop new or upgraded services with a focus on users' needs and accelerated service delivery with measurable improvements for the lives of citizens.
Within this overarching theme, the main three categories of the Awards1 are as follows:
1. Digital transformation of the public sector and its services.
In an increasingly 'connected' and digitalised world facing grand societal challenges of great complexity and uncertainty, governments and public authorities must be able to adjust to dynamic and often disruptive changes in economy and society. Policies, structures and forms of service delivery that have been successful in the past may no longer be sufficient or appropriate for citizens and businesses in the future. The ability to reflect today's needs and to anticipate tomorrow's must become permanent features of the public sector in the Western Balkans. This requires a constant striving for greater agility and the harnessing of digital technologies to adapt to new challenges.
This award category will recognise proven solutions related to the digital ecosystem, including e-governance, e-services, ICT technologies, cyber security, data management, and open data. Potential examples of 'digital transformation of the public sector' include:
Effective inter-institutional coordination of policymaking and programme-implementation in the area of eGovernment
Improved governmental capacity to accelerate the effective and efficient development of new digitised services
The implementation of an inclusive user-centred approach in public service delivery through digitized services (especially in the context of the pandemic)
The development and use of tools and future-oriented innovative approaches for increasing the inclusion of users in designing new digitised services,
The ability and readiness of government and institutions at all administrative levels to invest in new digitised services resulting in lower costs over the long term.
Improved trust in government through competence in the delivery of (e-)results.
The creation of innovative and comprehensive services that relate to the life events of users, including through a better understanding of human needs and behaviour in designing more effective interventions.
The use of public administration systems as innovation hubs for new information and communication technologies, including the use of AI, automation, blockchain, and the Internet of Things to transform services.
The establishment of mechanisms and tools to ensure cybersecurity for public service, including the use of simulation technologies for forecasting and preventing cyber-attacks.
Leadership that actively encourages IT innovation in public-sector delivery, with bottom-up initiatives streamlined and sustainable services developed as a result.
Open data used as a catalyst for bringing social, economic and environmental benefits to citizens.
Government data management capacities for the digital age, including data for improving eGovernment sector and e-services.
Inspiring retention policies and implementation strategies for IT employees in the public sector
2. Quality management for improving services
The quality of government and public service delivery are crucial for resilience, recovery and economic performance, while poor governance is a significant barrier to development. There is growing consensus that improving the quality of governance, institutions and public services is a fundamental precondition for prosperity and for people's well-being in general. Examples of efforts recognised by the 2022 PA Award category for 'Quality management for improving public services' include the following:
Successful efforts by governments and institutions to raise the level of public services or/and service delivery even in the context of the pandemic with limited staff and resources (including remote working and scarce public finances).
The development of innovative tools and approaches for including users in the design of new services and for assessing user- satisfaction.
The application of a human-centred approach in public service design.
The use of quality management tools (e.g.CAF and ISO) to upgrade existing services in collaboration with other stakeholders (mapping of stakeholders and co-creating upgraded or new services in PA organisations).
Evidence of governmental responses with potentially long-term benefits for governance (e.g. resilience, agility, crisis communication, design of future strategies and foresight planning.)
Ensuring quality management of services during the pandemic crisis.
Effective adjustments to working arrangements for human resource management (e.g. teleworking, hybrid working culture) or for financial management.
3. A public administration for all
Trust in government and public consent for administrative decisions is essential at all times but even more so in challenging times. Building this trust entails accessible and transparent governance that engages citizens through well-presented information and new methods of active participation, including the co-creation, co-implementation of decisions that affect people's lives. Inclusive and effective governance further requires that governments are better informed about citizens' needs. Examples of efforts recognised by the 2022 PA Awards in the category of 'Public administration for all' include the following:
Enhanced accessibility to services, including through improved administrative procedures.
The smart use of a multi-channel approach and the simplification of services to increase the accessibility and usability of services, especially for vulnerable groups.
Systems and services that put citizens first, including through greater transparency in governance and through engaging citizens as contributors to increase transparency in public administrations, with evidence of checks and balances.
Efforts to enabled dialogue and consultation between administrations and citizens and other ways of facilitating citizen involvement in making democratic decisions.
The development and adoption of tools for the co-design, co-production, co-evaluation and self-management of outcomes, in particular for personalised services such as healthcare and participatory budgeting, as well as tools for co-decision-making on green spaces and neighbourhoods.

Rules & Eligibility Conditions

CONTEST RULES DOWNLOAD
1
GENERAL CONTEST and ELIGIBILITY CONDITIONS
The ReSPA-OECD/SIGMA PA Awards 2022 invites creative, innovative, impactful and inspiring solutions for improving the public sector to better the lives of citizens.
The submitted solutions must match one of the three categories described above.
One public administration institution or/and department can apply for more than one category.
The application must be filled out completely with no text boxes left unaddressed. The organisers of the award reserve the right to ask applicants to provide any missing information.
Applications must come only from ReSPA member countries and Kosovo.*
Registration, including submitting project information, must be completed online via the ReSPA-OECD/SIGMA PA Awards contest platform.
In addition to the questionnaire, each application CAN but

IS NOT OBLIGED

to include: (a) an internal or external evaluation/ report or similar document that highlights the results and impact of the initiative; and (b) letters of reference written by a third party, video materials, etc.
In submitting a project, the project-owners thereby accept the rules of the ReSPA-OECD/SIGMA PA Awards 2022.
Submissions that violate international copyright provisions will be excluded.
The ReSPA-OECD/SIGMA PA Awards 2022 cannot be held liable for accepted submissions and their contents and rights.
2
WHO CAN APPLY (TARGET AUDIENCE)?
The ReSPA-OECD/SIGMA PA Awards 2022 is open to all public sector institutions from ReSPA members from all administrative levels, i.e. national, sub-national and local entities in Albania, Bosnia and Herzegovina, North Macedonia, Montenegro, Serbia and Kosovo.*
In the case of public-private partnerships, the lead applicant must be a public sector institution. PA Awards will only be given to the public sector institution in such partnerships.
In case of multiple submissions by the same organisation, each initiative requires a separate registration.
Consultancy companies or other types of organisations working on a consultancy basis are not eligible for the PA Awards.
Individuals (public professional) cannot participate in the award.
3
TIMETABLE FOR THE ReSPA-OECD/SIGMA PA AWARDS 2022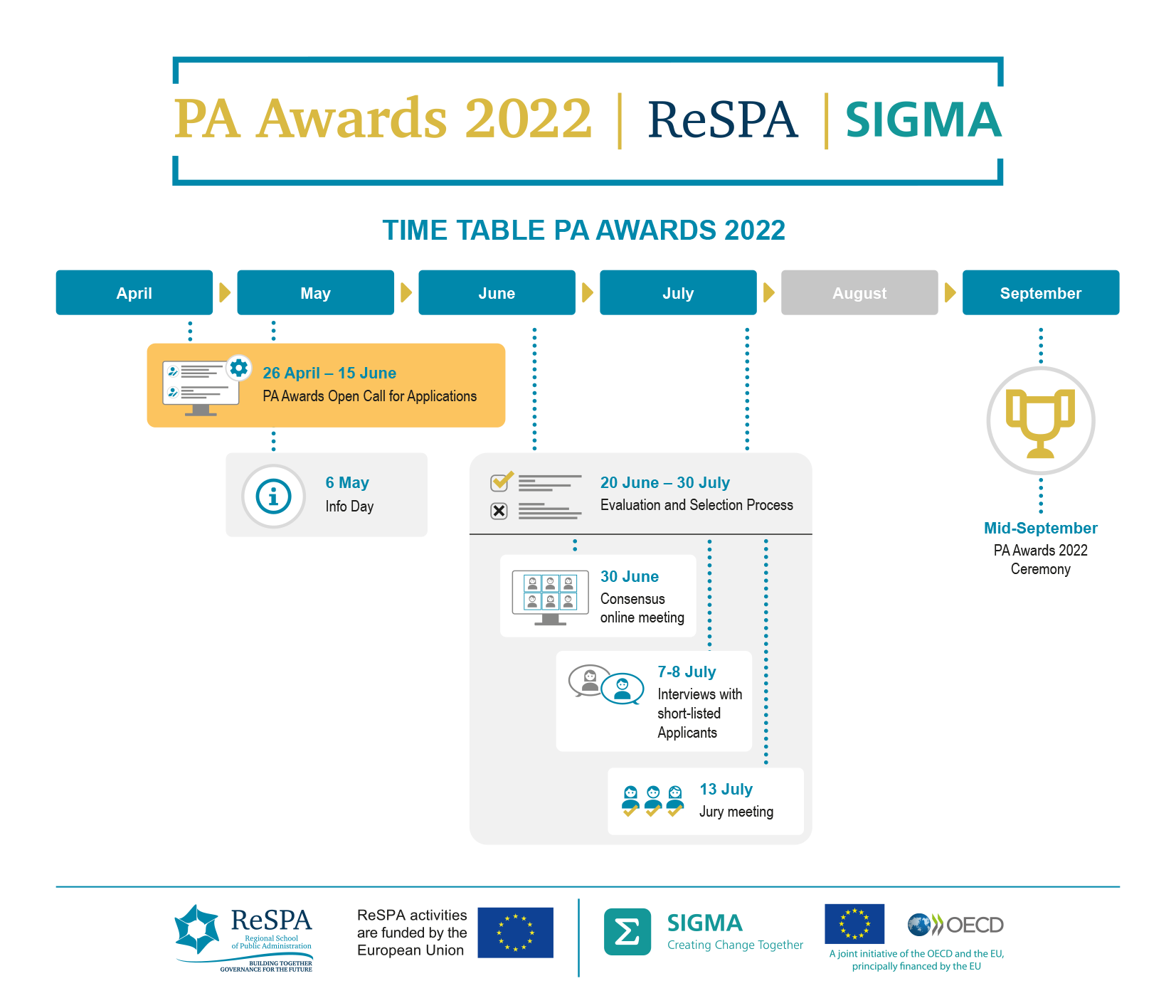 4
BENEFITS AND IMPACTS OF PARTICIPATION IN THE PA AWARDS 2022
A unique and exclusive package of awards is available for contestants, including trophies, certificates and special recognition of outstanding efforts, as well as peer learning activities and tailored learning journeys for winning candidates to observe best practices in the region and in the EU.
The awards provide external visibility and international acknowledgement for public administrations in the Western Balkans, further leading to internal recognition and further development possibilities, including extra funding and the scaling up of their initiatives to other administrative and geographical areas.
Contestants will receive valuable feedback for project improvements thanks to the Awards' multi-step assessment process.
Submitted initiatives will be used in ReSPA´s and SIGMA/OECD's learning exchange and practice transfer activities in the region and internationally.
Winning candidates will join a select 'club of excellency' with networking opportunities in the region and beyond.
The process of writing the application (in English) itself will be a highly beneficial opportunity for learning and for deepening contacts with other departments.
Participating in the Awards offers candidates the opportunity to inspire each other with shared ideas, knowledge and experience of best practices.
5
EXPLOITATION RIGHTS AND COPYRIGHTS
By submitting a project to the ReSPA-OECD/SIGMA PA Awards, the applicant provides the award organisers with the exploitation rights to any submitted videos, pictures and other content for non-commercial promotion of the nominated product, presented in print, broadcast and any other forms of media, as well as for events.
The applicant must own the copyright of all pictures, sounds, contents and other materials related to their application. All software used must be licensed.
6
CONTEST LANGUAGE
The official language of the contest is English and the submitted initiative, as well as all supporting documents, should be in English. If any documents are provided in a local language, please note this in the application form (including in the case of press articles, data analytics, visualisations, statistics and citizens' feedback).
7
EXCLUSION AND DISQUALIFICATION OF SUBMISSIONS FROM THE AWARD
Incomplete submissions and any submissions that do not comply with the award rules and conditions will be withdrawn from the selection process. Applicants will be informed in a timely manner if their application is withdrawn from the selection process. There is no legal recourse against disqualification for any of the reasons outlined below:
Conditions leading to the immediate disqualification of the contest:

conflict of interest and non-adherence to the process by those concerned;
presentation of misleading and false information in supporting documents;
inability to provide sufficient documentation to review the initiative;
unethical behaviour, including undue pressure on any person involved in the evaluation and selection process;
lack of ownership of the creative rights or infringement of others' copyright;
false registration information or non-compliance with the rules of the contest.
8
ADDITIONAL ENDORSING AND TRANSVERSAL ASPECTS ACROSS CATEGORIES
To encourage diverse approaches and perspectives, the PA Awards 2022 will be especially sensitive to and supportive of initiatives that have the following characteristics and aims:
initiatives that ensure continuity in the delivery of public services while fostering innovativeness and/or reducing costs
initiatives that improve the resilience and responsiveness of public administrations and which prioritize citizens' needs
initiatives that ensure stability in the functioning of public institutions in changed societal circumstances
initiatives that promote and tackle green and sustainable measures (or services) such as climate change mitigation, clean and affordable energy, zero pollution, shift to sustainable mobility, circular economy, etc.
initiatives that provide special attention to gender issues and/or services for marginalised groups and citizens with special needs
initiatives that promote cross-border collaboration
initiatives that foster youth empowerment
9
THE SELECTION OF WINNERS & THE JURY PROCESS
The winning candidates will be selected from all submissions through the selection process described on the website. For more information, see Point 3 below and the visualisations accompanying this document.
Contact us
PAA team is happy to talk to you about any questions, feedback or propositions concerning the Public Administration Awards and its events.
If you have any questions related to the rules, contest, etc., please contact:
pa-awards@respaweb.eu
If you have any difficulties with the awards database, please contact
office@worldsummitawards.org
---
1 The examples provided in these categories are not exhaustive and applications in other areas that have helped to improve the public administration domain are also welcome.
* This designation is without prejudice to positions on status, and is in line with UNSCR 1244 and ICJ Advisory opinion on the Kosovo Declaration of independence