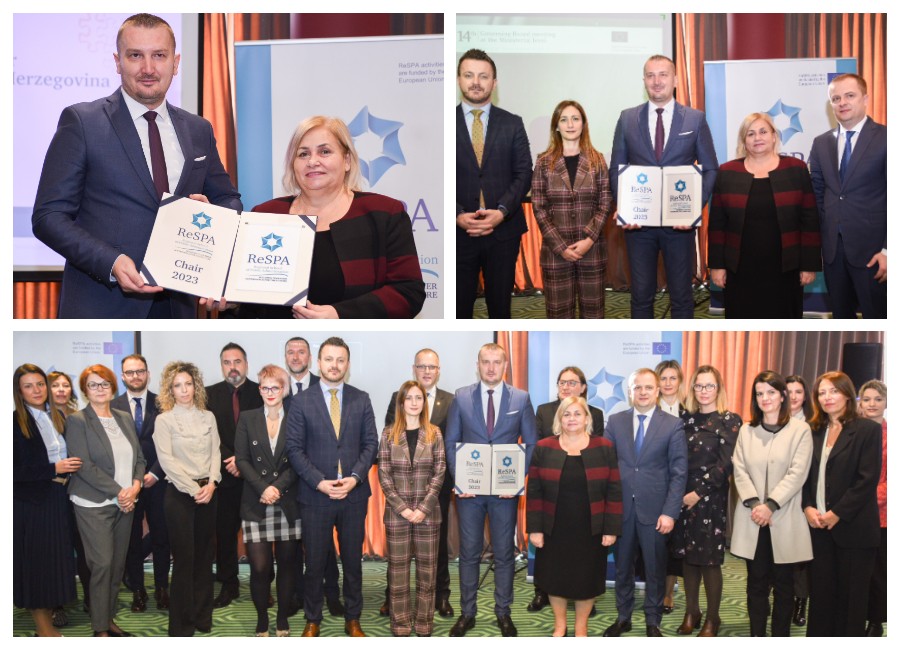 ReSPA held its 14th Governing Board Meeting at the Ministerial level: Bosnia and Herzegovina takes over the Chairmanship of ReSPA
---
Ministers and Deputy Ministers in charge of Public Administration Reform (PAR) from ReSPA Members: Ms Milva Ekonomi, Minister of State for Standard Services, Republic of Albania /Chair of the Governing Board, Mr Josip Grubeša, Minister of Justice, Bosnia and Herzegovina, Mr Marash Dukaj, Minister of Public Administration, Montenegro, Mr Aleksandar Bajdevski, Deputy Minister, Ministry of Information Society and Administration, North Macedonia, as well as high representatives of the European Commission and ReSPA Governing Board members at Senior Official level praised ReSPA's major accomplishments, achievements and tangible results in the current year.
By implementing 62 capacity-building actions for 1346 civil servants from the entire region, five regional comparative research projects and 21 direct support actions to its Members, ReSPA has continued to strengthen regional cooperation between PAR actors, promote collective learning and knowledge transfer, and facilitate the realization of Members' European integration aspirations through upholding and supporting the European Principles of Public Administration. Results from the 2022 Monitoring results of ReSPA support to the region, which scored above 4 (out of 5), undoubtedly confirmed ReSPA's good track record in tailoring its programme of work focused on regional needs.
"This year is marked as one of the crucial ones concerning ReSPA's further strategic orientation. Ministers from ReSPA Members fully endorsed the ReSPA Agreement and mandate until 2031 while European Commission proved full-scale commitment and support in the frames of the forthcoming 5th EC Action Grant 2023-2025, and today we agreed on the content of the revised ReSPA Strategy 2019-2024. These results could not be achieved without the strong support and great collaboration of government representatives involved in ReSPA's governance structures, working groups, liaison officers, representatives of the EU, numerous experts engaged in different areas, as well as the exceptional ReSPA team. I am taking the opportunity to express my gratitude to all of you for a great job done which strongly motivates us from the ReSPA Secretariat to step up our activities including on-demand in-country support and mobility schemes, and develop regional knowledge platform to further empower the civil servants and assist the governments in developing modern, efficient and resilient public institutions which attract and retain the right people" underlined Ms Maja Handjiska-Trendafilova, ReSPA Director.
Traditionally, this meeting serves for ReSPA Members to hand and take over the annual ReSPA chairmanship. This time, Minister Milva Ekonomi, Chair of the Governing Board, handed over the ReSPA chairmanship to Minister Josip Grubeša who ensured that Bosnia and Herzegovina will closely work with ReSPA and will invest substantial efforts to further strengthen ReSPA mission and actions in the Region during Bosnia and Herzegovina's chairmanship.
The open Session of the Meeting discussed the importance of strategically transforming HR to be modern and attractive for civil servants, while ReSPA presented results from the pilot staff satisfaction surveys. It was also an opportunity for informal discussion at the Ministerial level on a core topic of best practices for HRM in public administration.