News
10 11.17.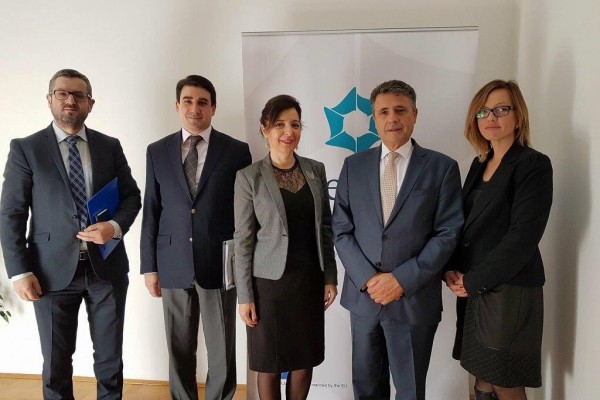 Meeting between Ambassador of Kosovo* to Montenegro, H.E. Skender Durmishi and ReSPA Director Ms. Ratka Sekulovic
Ambassador of Kosovo* to Montenegro H.E. Mr. Skender Durmishi visited the Regional School of Public Administration (ReSPA) on 10 November 2017.
Ambassador Durmishi emphasized importance of ReSPA for the Western Balkans region in relation to the process of public administration reform. He also expressed gratitude for ReSPA's continuous support to the capacity building of civil servants of Kosovo*.
Ambassador Durmishi informed Director Sekulović that the Government of Kosovo* had adopted the Initiative for Accession of Kosovo* to ReSPA in October 2017. It is expected that, by the end of the year, the Parliament will adopt the Law on Accession of Kosovo* to ReSPA.
The ReSPA Director thanked to the Ambassador for the visit, and stated that ReSPA would continue supporting the governments in the Western Balkans in developing better public administration, public services and overall governance systems for their citizens and businesses, and help them in preparations for the European Union membership.
[1] * This designation is without prejudice to positions on status, and is in line with UNSCR 1244 and ICJ Advisory opinion on the Kosovo Declaration of Independence
Archive