News
15 12.17.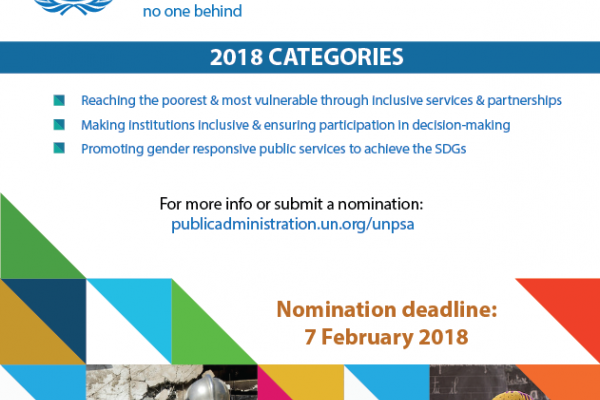 Call for nominations for the 2018 United Nations Public Service Awards
ReSPA has the pleasure to disseminate the announcement that the United Nations has begun to accept nominations for the 2018 United Nations Public Service Awards (UNPSA). The UNPSA promotes and rewards innovation and excellence in public services in support of the realization of the Sustainable Development Goals (SDGs) and the principle of leaving no one behind, which form the core of the 2030 Agenda for Sustainable Development.
In 2018, nominations for the Awards are invited in three categories:
1) Reaching the poorest and most vulnerable through inclusive services and partnerships;
2) Making institutions inclusive and ensuring participation in decision-making; and
3) Promoting gender responsive public services to achieve the SDGs.
The United Nations Department of Economic and Social Affairs is collaborating notably with UN-WOMEN in organizing the Awards, highlighting the important role of gender responsive public services in achieving the SDGs.
The Awards will be handed out on 23 June 2018 during the United Nations Public Service Forum which will be held in Marrakech, Morocco. The 23rd of June is the United Nations Public Service Day and aims to "celebrate the value and virtue of public service to the community" (A/RES/57/277).
The Award is open to all public-sector institutions at the national, state and local levels from all UN member states. In the case of innovative partnerships (including civil society, private sector, academia etc.), the nominee must be a public-sector institution. The nominations for the Award shall present innovative initiatives that contribute to improved public service delivery and may inspire similar initiatives around the world.
In light of the above, we would be grateful if you could kindly disseminate this call for nominations among relevant Public sector and Government institutions, Ministries of Public service or Public Administration, other Ministries, local governments/authorities, or municipalities and institutes of public administration so that they consider nominating innovative initiatives. Your institution is welcome to link its website to the United Nations Public Administration and Development Management/DESA website in order to facilitate the nomination process. We also encourage your institution to nominate deserving initiatives for a 2018 UNPSA.
How to apply
The nomination form can be accessed online via the UNPSA portal at: https://publicadministration.un.org/en/UNPSA. Submission rules (attached) and the online application form are available in the six official languages of the United Nations. However, we encourage all nominating organizations to provide voluntary translations of their nominations in one of the working languages of the United Nations Secretariat, which are English and French.
Deadline for nominations is 7 February 2018.
Further information
Should you need any additional information regarding the nomination process, kindly contact DPADM/DESA at UNPSA2018@un.org.
We thank you for your kind efforts and collaboration in promoting creativity and innovation in public sector institutions through the Awards.
Archive