News
21 04.18.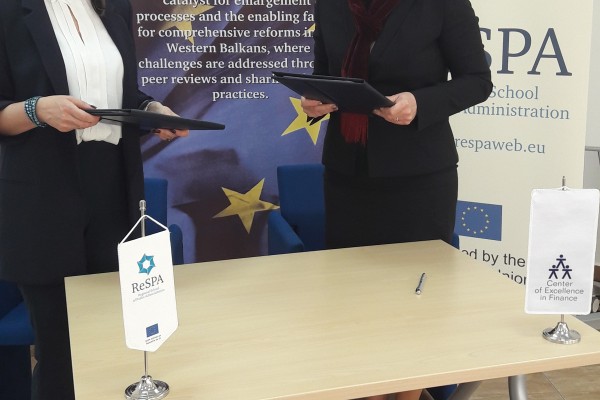 Memorandum of Understanding between ReSPA and the Center of Excellence in Finance Signed
Danilovgrad, 20 April 2018 – On the margins of the first meeting of the Advisory Board of the Regional School of Public Administration (ReSPA) and its 34th Governing Board meeting at Senior Official level, the ReSPA and the Centre of Excellence in Finance Directors Ms. Ratka Sekulović and Ms. Jana Repanšek signed the Memorandum of Understanding recognising the readiness of these two international organisations to extend cooperation and capitalise on each other's comparative strengths.
Centre of Excellence in Finance (CEF) is the international organization with a mission to support capacity development for finance officials in South East Europe through learning. Through innovative, participatory, and practical learning solutions, CEF works with its constituency to support their public financial management, tax policy and administration, and central banking reform efforts. As a knowledge hub for the region, CEF combines topical expertise and in-depth knowledge of countries in the region with a good comprehension of how reforms take place.
The Memorandum of Understanding between CEF and ReSPA has formalised a valuable partnership in sharing commitment to the Western Balkan region's public administration reform efforts. Drawing up on both organisations' expertise and knowledge of the region's needs, this partnership will reinforce ReSPA's reach and impact in Public Finance Management.
Archive