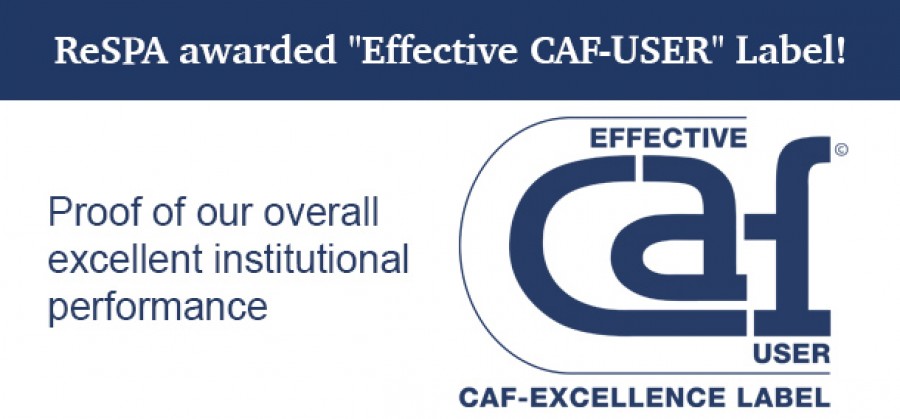 ReSPA awarded "Effective CAF-USER" Label!
---
The European Quality Label as proof of our overall excellent institutional performance
With great honour, we inform our partners and colleagues that the CAF centre of KDZ – Center for Administrative Research awarded our institution with "Effective CAF-USER" Label!
This prestigious award comes as a recognition of the commitment and enthusiasm of the entire ReSPA team, after more than two years of CAF implementation within ReSPA.
"This is an excellent day for us and an essential achievement for our institution. It reflects our devotion to becoming the Quality Management Centre in the area of public administration in the Western Balkans region. "Effective CAF-USER" Label will be an additional motive for the whole ReSPA team and me to share our knowledge and experience to further potential CAF users in the Western Balkans region. I wish to extend my sincere appreciation to the excellent cooperation and support of the KDZ representatives during the whole process of CAF implementation" said Mrs Ratka Sekulovic, ReSPA Director.

The Secretariat of ReSPA initiated the implementation of CAF (Common Assessment Framework) in 2018. After more than two years of CAF implementation within ReSPA, the CAF External Feedback procedure started a few months ago. Due to the Covid-19 crisis, the process has been transformed into online and required intensive consultations during March and April 2020.
The Procedure of External Feedback (PEF) process validated the results of all the efforts done by ReSPA in the domain of CAF implementation. It engaged two independent experts, who did essential analysis, including the interviews with ReSPA stakeholders. The initial interviews have been done with ReSPA multifunctional team composed of different profiles as well as with one number of ReSPA Governing structures representatives.
Being aware that PEF process is proved to be adequate practice in many organizations, it brought the reflection on all our activities invested so far to become Regional Quality Management Center (RQMC) for the Western Balkans and helped us to fine-tune the next steps for further improvement in this area. Also, it enabled us to obtain the necessary benchmark and visibility for our efforts in implementing CAF, both internally and externally.