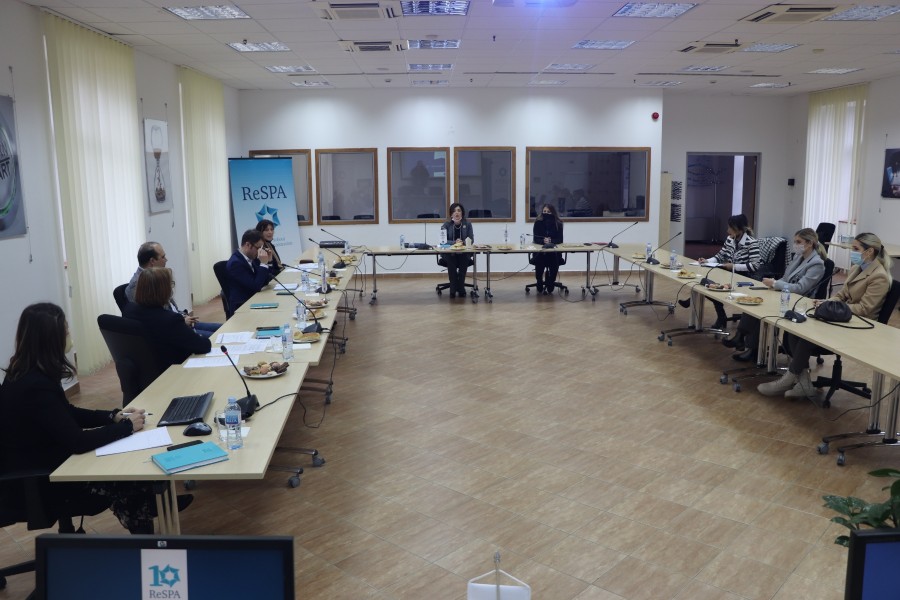 ReSPA hosted Ms Tamara Srzentić, Minister of Public Administration, Digital Society and Media of Montenegro
---
With great honour, ReSPA team hosted Ms Srzentic and the team members of her Cabinet in ReSPA premises on 29 January 2021.
Ms Ratka Sekulovic, ReSPA Director, jointly with Program Managers expertly presented activities planned for the upcoming period, focusing on innovative approaches within key thematic areas, particularly in eGovernment and Quality Management areas.
In her introductory speech, Ms Sekulović emphasised that ReSPA has become the Public Administration Reform Partner proven across the Western Balkans governments over the last ten years. Devoted to bettering public administration services for citizens and businesses, ReSPA has organised more than 400 networking and capacity development activities where 8.000+ civil servants have improved knowledge and skills and conducted 30+ policy papers with 150+ regional and country-specific policy recommendations in the area of PAR and EU integration.
She also reflected on ReSPA's main achievements in the last year such as receiving "Effective CAF-USER" Label and becoming the Regional Quality Management Centre (RQMC), initiating the Public Administration Awards (a unique endeavour with OECD/SIGMA which has attracted enormous attention from PA institutions in the Region), organising two Seasonal Schools - on Rapid Innovation Lab and EU Accession Negotiation and developing ReSPA Monitoring Toolkit.
This year, ReSPA's point of convergence will be a further development of the RQMC, Regional Network of Policy Coordinators and In-Country support mechanisms as well as new initiatives such as the organisation of ReSPATHON, and many other initiatives within e-Government area.
With such a diverse portfolio of activities, ReSPA can further build a strong long-term partnership with the Ministry of Public Administration, Digital Society and Media of Montenegro by supporting digitalisation, e-services and Human Resource Management Development.
"ReSPA will provide very practical information and tools that can easily be applied to support the Ministry covering a wide range of urgent topics such as software development, drafting strategies, making policies, etc." Ms Sekulovic highlighted.
On the other hand, minister Srzentic expressed her gratitude to ReSPA which was her connecting tissue with the Region through her engagement as an expert who shared the knowledge and lessons-learned with ReSPA's working group members over the last years.
"ReSPA has been my chief partner for the last several years, and I feel at home here. Since ReSPA's first Seasonal School on Digitalization, I have been collaborating with this institution, and I am more than sure that ReSPA will be a reliable partner for the Ministry not only in terms of digitalisation, drafting methodologies and improving e-services, but in changing the mindset of the public servants by providing the training and knowledge sharing, so they can deliver tangible results fast and effectively. We have opened so many issues today where we can closely collaborate. I am expecting ReSPA's support with opening PAR Academy through In-country and Mobility schemes mechanisms and sharing best practices from the WB region in the areas of digitalisation (which is not only IT and technology but establishing internal capacities for upgrading the skills of civil servants) and strategic planning (so the Ministry can meet measurable and tangible). Also, I would like to jointly collaborate with ReSPA in its collaboration with the Directorate-General for Informatics (DG Digit). The ultimate goal is to provide concrete outputs for the citizens where I am looking forward to tangible advice of ReSPA team." said Minister Srzentić at the meeting.