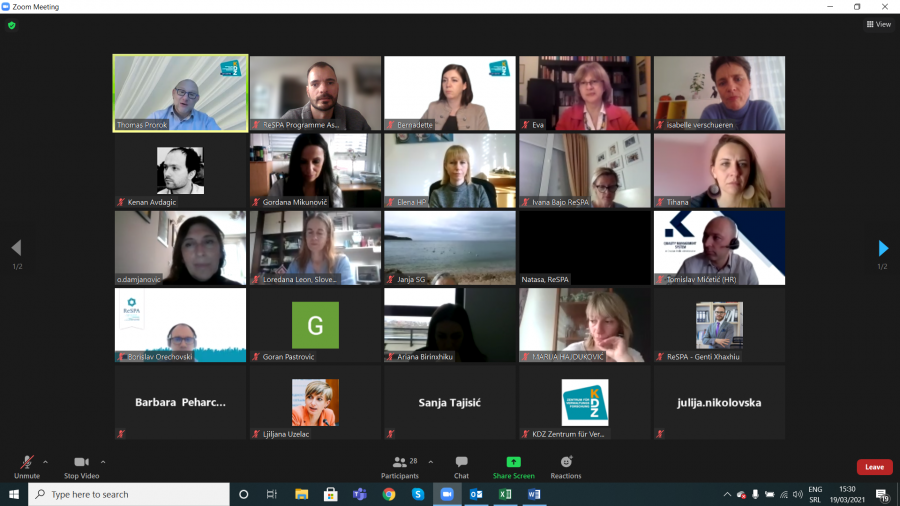 ReSPA and KDZ have finalised the External CAF Feedback Expert (EFAC) training for CAF practitioners in the Western Balkans
---
ReSPA, in cooperation with KDZ and within BACID II project, has successfully realised a three-module training on CAF External Feedback Process (PEF) for CAF correspondents and practitioners in the Western Balkans, as well as for the ReSPA Staff.
After implementing two Modules (organised as two-day virtual training during January and February), on the last module, the attendees run through the whole CAF Feedback Process in the hypothetical role of being evaluators of an organisation.
EFAC trainers Ms Isabelle Verschueren, Mr Thomas Prorok, Ms Bernadette Tropper-Malz and Ms Eva Sejrek-Tunke, worked with participants on the practical implementation of the real CAF External Feedback. The participants dived into the CAF External Feedback Process simulation through real CAF cases focusing on valuable insights. They also have gone through the Code of Conduct – Guiding Principles for EFACs and PEF modalities in practices regarding costs related to CAF services. ReSPA has also presented its plans and the role this training had in that process.
Participants who have completed the three-module training program will obtain a certification of KDZ as the "CAF External Feedback Actor (EFAC)" and will be able to deliver a professional External CAF Feedback procedure.
As a part of different training programmes developed to empower knowledge on QM in the region, this training was crucial in providing the possibility to have certified EFACs in the region. It is also a basis for EFACs Regional Network, established in Reginal Quality Management Centre (RQMC) within ReSPA.
ReSPA member countries authorise RQM Centre to act as the "national organiser" for CAF certification, and for this procedure, regional EFACs will be engaged. RQMC will also establish and support regional CAF and PEF networks. The ultimate goal is to gradually improve service delivery to citizens and businesses by successfully applying TQM tools and CAF within Western Balkans public administrations to contribute to reforms in public administrations.
Being a CAF dedicated organisation awarded with the "CAF Effective user" Label, through RQM Centre, ReSPA stays devoted to quality management development within the Western Balkans public administrations.