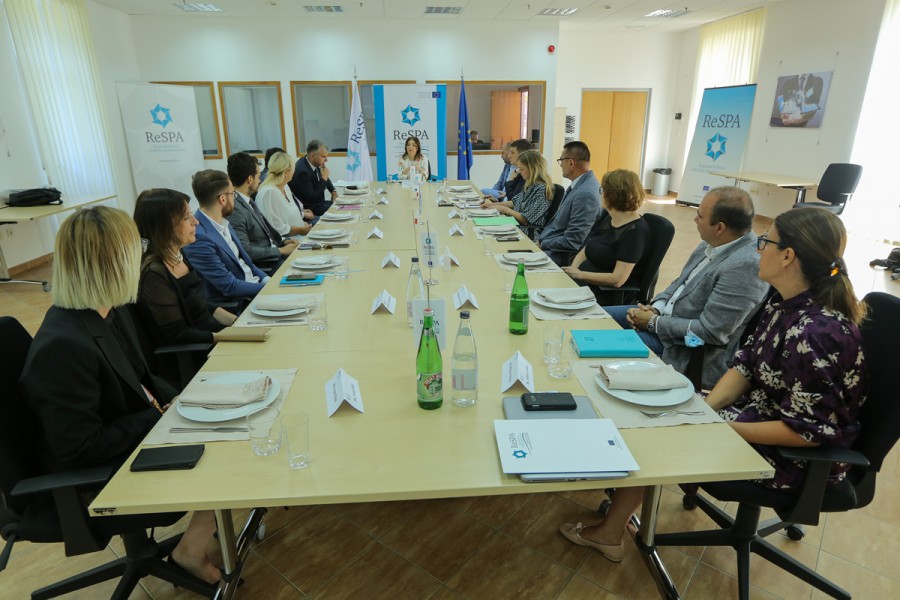 Traditional working breakfast gathered Ambassadors of ReSPA Members and representatives of the Ministry of Foreign Affairs Montenegro
---
ReSPA Director, Ms Ratka Sekulović hosted H.E. Mr Ridi Kurtezi, Ambassador of the Republic of Albania, H.E. Mr Branimir Jukić, Ambassador of Bosnia and Herzegovina, H.E. Mr Veljko Milonjić, Director General for Multilateral Relations and International legal Affairs, Ministry of Foreign Affairs of the Government of Montenegro, Mr Oliver Stamenković, Chargé d'Affaires a.i. Minister-Counsellor, Embassy of the Republic of Serbia, Mr. Marko Mrdak, Deputy Chief Negotiator of Montenegro and other diplomatic representatives on traditional working breakfast.
Sekulović presented to the diplomatic representatives the state of play of Public Administration Reform in the Western Balkans as well as ReSPA's main achievements over the last ten years. "ReSPA has been supporting the public administration reform in the region for ten years. After 400+ organized capacity development events regionally, with 6.000+ participants who implemented their knowledge and skill-sett into reforms processes, we can say we understand the needs of the region and the essence of this complex process. We remain committed to supporting the public administration reform, bringing the region closer to the European Union and transforming the Western Balkans into prosperous societies." highlighted Ms Sekulović.
Mr Kurtezi emphasized ReSPA's unique position to support building more efficient, simpler, and citizen-oriented public administration institutions in the Western Balkans. "With ReSPA's support, the public administration institutions in Albania moving faster to meet EU standards" pointed Mr Kurtezi.
Mr Milonjić thanked ReSPA for its long-standing support and raising the working standards in the public administration institutions in Montenegro. He emphasized that the Ministry of Foreign Affairs, with 30+ regional activities, is ready to meet high EU standards and he sees ReSPA as an institution that will continue to support these initiatives and build competitiveness in the public administration in the region. "It is no point to have as many regional initiatives as possible but to synchronize and complement them well in order not to overlap. In that regard, ReSPA should have a special place and importance," emphasized Mr Milonjić.
Traditional working breakfast in ReSPA premises confirmed good collaboration between ReSPA and Ambassadors of its Members countries as well as with the Ministry of Foreign Affairs of the Government of Montenegro which is a baseline for further initiatives within the Public Administration Reform process in the region.