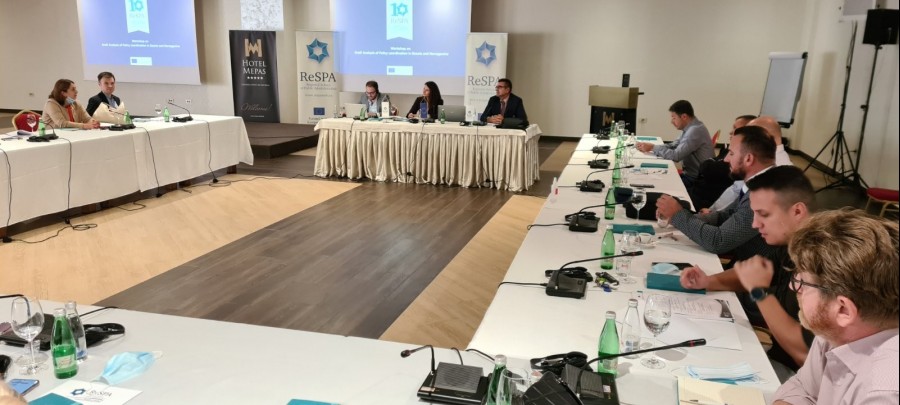 Workshop on drafted Analysis of Policy coordination in Bosnia and Herzegovina
---
ReSPA organized a Workshop on drafted Analysis of Policy coordination in BiH as a follow-up to study the Analytical paper on Policy Co-ordination in Western Balkans.
Ms Azra Bećirović, a national expert from BIH, developed and presented specific analyses on policy coordination in Bosnia and Herzegovina. In particular, Ms Bećirović focused on the strategic, legal and institutional aspects of coordination of public policies; assessment of the strategic planning processes in all entities of BiH; coordination of PAR and PFM; coordination of European Integration process; and coordination of the development of Economic Reform Programmes. During the workshop, Ms Becirovic and the participants thoroughly discussed the role of the most relevant public administration institutions in improving coordination among public policies.
During the presentations and discussions, a special focus was put to the importance to draft policies and plans which are financially sustainable. In addition, these policies should undergo public and parliamentary scrutiny, emphasizing the importance of improving the public consultations mechanism. Participants emphasized the need for further capacity development actions in policy coordination and Impact Assessment (RIA) implementation.
The workshop gathered 23 participants - state secretaries and senior managers responsible for public administration reform and economic reforms programmes, national IPA Coordinators or NIPAC office representatives, officials in charge of policy coordination within the centres of the government structures in charge of policy planning and coordination as well as representatives of the ministries of finance, justice, officials in charge of policy coordination.