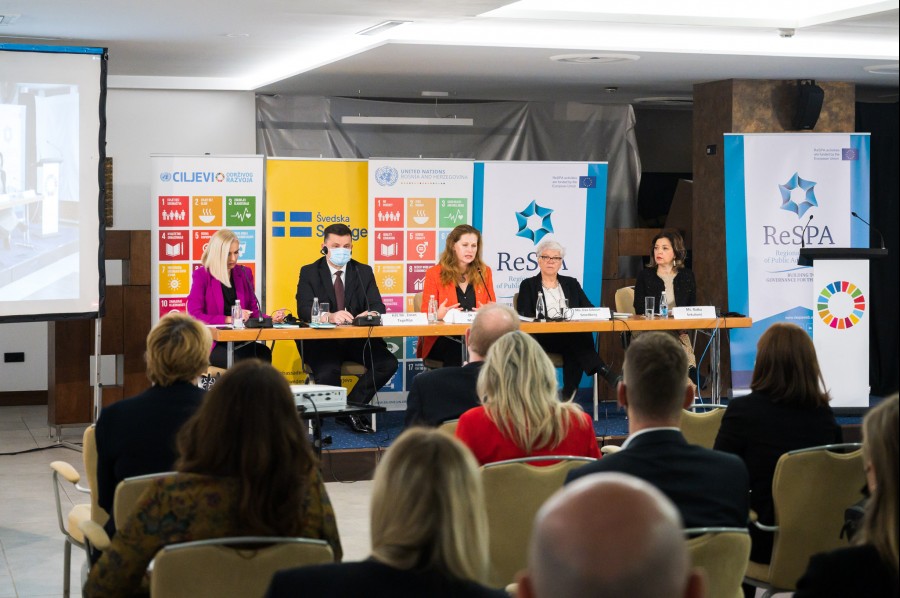 Regional Conference on the Implementation of Sustainable Development Goals
---
ReSPA, jointly with United Nations in Bosnia and Herzegovina, organized a two-day Regional Conference on the Implementation of Sustainable Development Goals (SDGs).
The Conference gathered more than 30 participants from the Western Balkans to share regional experiences and good practices between countries, especially in coordinating policy‐making and implementation and the broader strategic planning and development management system in the Region.
Representative of the European Commission presented European Union policies in the context of the Sustainable Development Goals (SDGs), while public servants from the Western Balkan countries presented their efforts related to coordination and implementation of the 2030 Agenda on achieving the SDGs. Participants highlighted the importance of incorporating the SDGs in the internal strategic frameworks of the countries of the Region, thus enabling a more empowering environment for youth, vulnerable and marginalized groups, mothers, students and children. In addition, it was a broad consensus among administrations that a continuous dialogue among the Governments and Civil Society Organizations should enhance the quality and all-inclusiveness of the SDGs implementation.
The participants were also introduced to good practices and challenges in implementing the 2030 Agenda within Policy coordination, Institutional framework, Financing and Localization of Sustainable Development Goals.
ReSPA Programme Manager Gentian Xhaxhiu highlighted the importance to dedicate further efforts and developing specific tools for an annual measurement and monitoring of the level of implementation of the SDGs until 2030 in each of the administrations in the Region. Since the coordination of the SGDs in the administrations of the WBs is a responsibility of the Centre of Government institutions, ReSPA will continue to further dedicate specific attention to this aspect of policy coordination through assisting its members in developing their capacities in this domain. In addition, ReSPA, in cooperation with the United Nations Department of Economic and Social Affairs (UNDESA), will organize a SDG Conference throughout the Western Balkans each year.
Background information
The Sustainable Development Goals or Global Goals are a collection of 17 interlinked global goals designed to be a "blueprint for achieving a better and more sustainable future for all". The SDGs were set up in 2015 by the United Nations General Assembly and are intended to be achieved by 2030. In September 2015, 192 United Nations member states committed themselves to implement the 2030 Agenda for Sustainable Development, consisting of 17 sustainable development goals and 169 sub‐goals. The 2030 Agenda document highlights the following: "Agenda 2030 is a plan of action for people, the planet and prosperity. The Sustainable Development Goals represent a transformative plan to create a better and sustainable future for the entire world. They address the global challenges facing the entire world, including poverty, inequality, climate change, environmental degradation, prosperity, peace and justice.
Western Balkans countries have recognized the importance and potential of implementing the Sustainable Development Goals and the 2030 Agenda as an opportunity to significantly improve the social, economic and environmental aspects of life in the countries and strengthen regional cooperation.