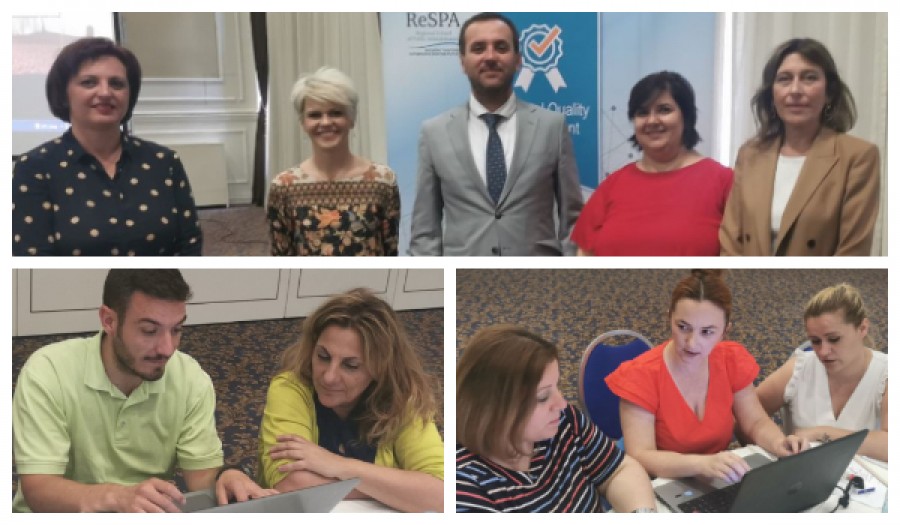 Minister Admirim Aliti: Today's final CAF Workshop will result in a good Plan that will improve the work of MISA. As a regional leader in the field of quality management, MISA will continue with the implementation of the CAF model in public institutions
---
ReSPA held the final - CAF Action Plan Workshop at the Ministry of Information Society and Administration (MISA) after two successful CAF Workshops in the project of CAF implementation.
Minister Admirim Aliti opened the Workshop and thanked the ReSPA team "for their support in implementing the CAF model in MISA and continuous support in numerous processes reforming the administration in North Macedonia". Minister Aliti also emphasized that CAF implementation in MISA has full support because "with a well-conducted self-assessment of the institution, detected shortcomings and undertaken activities will gradually lead to excellence and delivery of efficient and effective services to citizens". The Minister also underscored that MISA, as a national contact point for quality management, provides support to the entire public sector in this area and is the first in North Macedonia to implement the CAF2020 model, which emphasizes digitalization, agility, diversity and sustainability.
"I am sure that today's Workshop for prioritization will be successfully implemented as the whole process so far and will result in a good Plan for the implementation of activities that will contribute to even more successful work of our institution. I am convinced that the successful implementation of activities in the field of quality management that our institution has followed as a leader in the region for more than a decade will continue. Implementing the CAF model in institutions in our country will contribute to improving operations of public administration in general and providing better services to citizens and businesses." pointed out Minister Aliti opening the CAF Workshop.
Self-assessment group members from the MISA went through clustered recommended actions for improvement. Apart from the CAF Self-assessment group members, representatives of ReSPA and CAF Experts Mr Thomas Prorok and Martin Todeski guided the Self-assessment group members from MISA to agree on the future actions and concrete measures for each step identified.