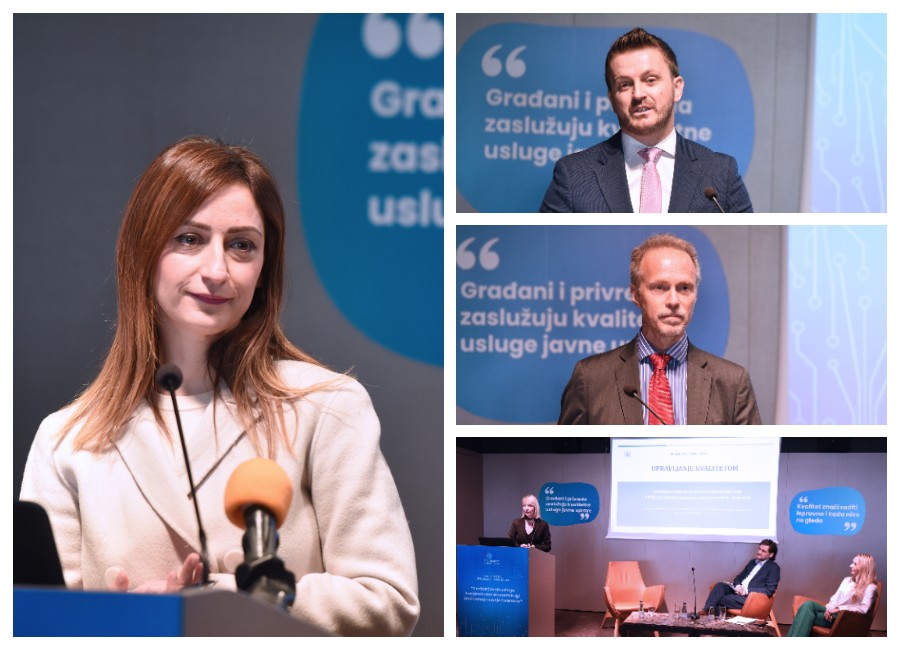 ReSPA Contributed to the Conference "Quality of Public Services as a Prerequisite for the Economic and Social Development of Montenegro" Organized by the Ministry of Public Administration
---
The Conference underscored the significance of quality management in public administration and responsible, professional, efficient, transparent and inclusive service to citizens and businesses as key economic and social development determinants.
ReSPA Director, Maja Handjiska-Trendafilova, highlighted ReSPA efforts in developing public service quality within the Regional Centre for Quality Management framework. "We have witnessed that the public administrations of the region make significant efforts to improve services to their citizens. In this complex process, ReSPA supports them by introducing CAF, an EU QM tool developed by the public administration for the public administration. We also encourage regional cooperation and cooperation with EU institutions in this area, aware of the importance of regional exchange of knowledge and experience but also support the development of national plans for quality management, guiding public administrations in their further development in this area. In this regard, ReSPA will continue to tailor its programme of work following the specific needs of the region, aiming to achieve the administration's progress in quality management and thus influencing citizens' satisfaction with the end result - services that save their money and better their living conditions.
Mr Marash Dukaj, Minister of Public Administration, said, "Public administration is a significant factor in the social system, even at the level of the personal life of every citizen. Our priority is to improve the services to the citizens at the local and state level. To achieve this goal, an objective assessment of the current situation in all areas is necessary". Minister Dukaj also pointed out that appropriate activities have been undertaken in the field of legislation, digitization, cyber security, and other areas important for this process. "Today is an opportunity to present the "National road map in quality management in public administration". This priority is also recognized by the current Public Administration Reform Strategy. Accordingly, this Conference is implemented as a support and contribution to the exchange of good practices and the use of good models. I would like to mention that the European Commission also supported this project, both with resources and financial means, for which I thank them," said Minister Dukaj.
Mr Yngve Engstrom, the representative of the EU Delegation to Montenegro, outlined that Montenegro should have a professional, impartial and merit-based public administration, "a public administration that will be resistant to changes in government and focused on providing good and efficient services to citizens and businesses."
In the second part of the Conference, the participants talked about the project that the Ministry of Public Administration is implementing with the support of the Regional School of Public Administration and international partners, which was presented by Marija Hajduković, Director General of the Directorate for Strategic Planning in Public Administration, International Cooperation and IPA Programs, Tihana Puzić, Senior QM expert, EIPA/ReSPA and Elvis Mujanović, Senior Communications Expert, EIPA/ReSPA.
Also, a promotional workshop was held for the Working Group for the development of a road map for quality management and potential pilot institutions.