Testimonials
---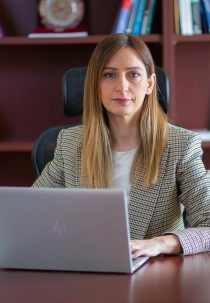 Ms Maja Handjiska Trendafilova

ReSPA Director
---
Public administration is a vital part of society and a key enabler for sustainable and inclusive growth and job creation. Individuals and businesses can thrive only if the governance works for them.
In the Western Balkans region, where regional cooperation and public administration reforms are fundamental for our accession to the European Union, ReSPA is proud to be working on precisely those two fronts!
In these processes reshaping our future, ReSPA plays a crucial role by supporting the design and deployment of reforms and providing technical assistance and capacity-building and facilitating the regional exchange of knowledge.
Jointly with our European partners and the Western Balkans governments, we work to support the development of modern, transparent, accountable and participatory public administrations that work for the people and bring tangible results and European values.
The outbreak of the profound global crisis indicated the need for acceleration of the reforms towards sustainability and resilience and radically changed the role of digital technologies and service delivery.
In light of these challenges, we continuously shape our programme of work based on addressing the common core values and public administration challenges in the region.
Serving as a knowledge hub for public officials in line with UN's Sustainable Development Goals, we in ReSPA promote learning and exchange of good practices across different PAR areas, including e-government, a centre of government and better regulation, human resources and management development and quality management.
We will continue to empower civil servants by providing tailor-made expertise and capacity-building tools so as to better equip them for addressing significant societal challenges, including digital and green transitions. By ensuring their constant improvements, we jointly work towards progress in professionalization and building public trust in the Western Balkans institutions and towards collaborative public administrations that are the backbone for all the reforms underway and ahead!
Counting on the highest-level political buy-in, we will also focus on deepening the regional dialogue at the highest level and cooperating with the EU towards a fully modernized Western Balkans administrative space and lasting public administration reforms.
I am sure that our common efforts will support our public administrations' organizational, technological, and cultural transformation. A change of public service values, mindsets and practices – paired with innovation and digital government. Shifts and reforms that meet citizens' and businesses' expectations and deliver growth-enhancing reforms. Transformations that further inspire regional upscaling!
As enshrined in the organization's motto, "Building Together Governance for the Future", ReSPA stays fully committed to our region's transformational journey and our most valuable asset – our people.