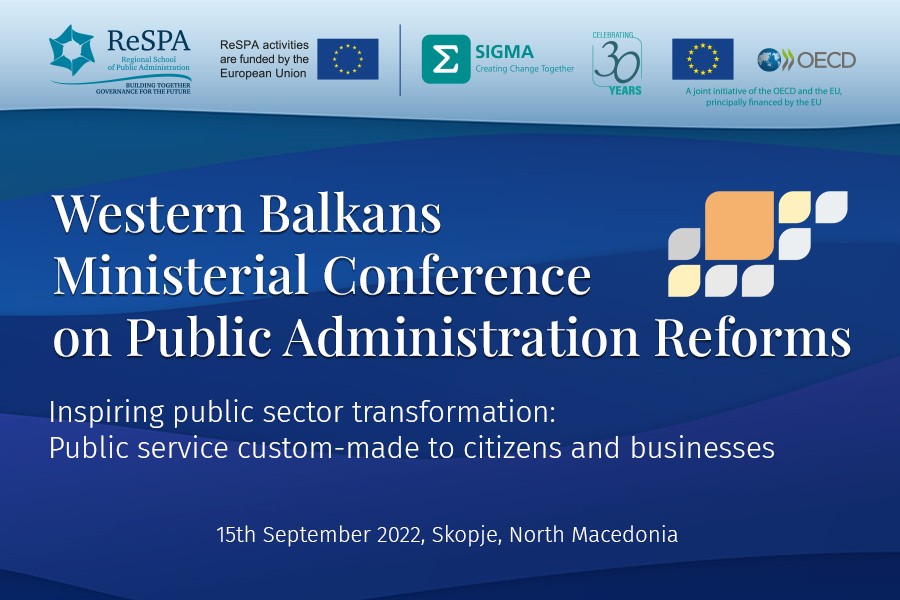 Western Balkans Ministerial Conference on Public Administration Reforms
---
Inspiring public sector transformation: Public service custom-made to citizens and businesses
ReSPA and OECD/SIGMA are organizing the Western Balkans Ministerial Conference on Public Administration Reforms to encourage high level political dialogue on shared challenges and opportunities related to public sector transformation and the civil service, and enhance the cooperation and exchange of expertise among public administrations. It will be good opportunity to the most important actors in the PAR across the Western Balkans to showcase and promote the exchange of good practices for the transformation of public administrations as well as the implementation of reforms, recovery and growth.
The Conference will bring together Ministers in charge for PAR, Good governance and Digitalization in the Western Balkans, senior public servants, European Commission, renowned experts, donor community, regional and international organizations, CSOs, and others.
During the Conference the winners of the Western Balkans Public Administration Award 2022 competition will be revealed and awarded under the main categories: Digital transformation, Quality management for improving services and Public Administration for all.