News
10 11.16.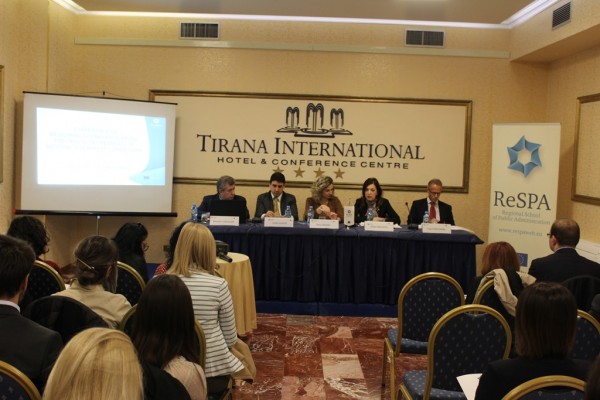 ReSPA continuously facilitates improved cooperation among technical secretariats of National Investment Commissions
The Regional School for Public Administration (ReSPA) organised on 1 and 2 November 2016 in Tirana, Albania, the Conference on regional cooperation among technical secretariats of the National Investment Commissions of ReSPA Members and Kosovo*.
The conference was opened by Mrs. Ratka Sekulović, the ReSPA Director, and Mrs. Erisa Xhixho, Vice Minister of European Integration of Albania, who welcomed participants by emphasizing the importance of further strengthening of the regional cooperation amongst the National Investment Commissions (NICs).
Mr. Yngve Engström, Head of Cooperations at the EU Delegation in Tirana, addressed participants on the topic on Recommendations for updating and further improvement of Single Project Pipelines. Mr. Massimo Cingolani, Head of Unit at the European Investment Bank, presented the STAREBEI Report "Investment for Growth and Development in the Western Balkans".
During the second day of conference, the representatives of technical secretariats of their respective NICs discussed the upgrade and revision of the Single project pipelines, presenting their relevant experience. They also provided recommendations on how ReSPA could further support their work.
* This designation is without prejudice to positions on status, and is in line with UNSCR 1244 and ICJ Advisory opinion on the Kosovo Declaration of independence
Archive