News
20 04.18.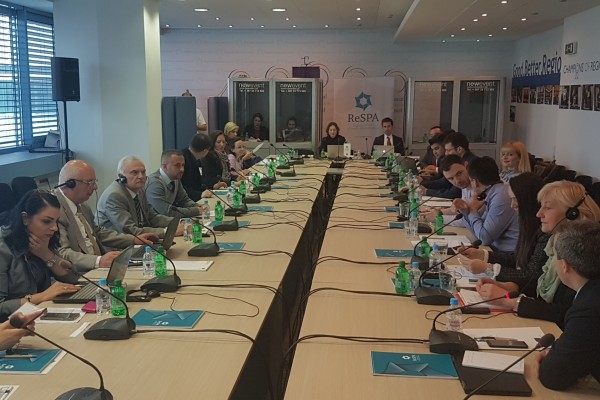 Regional Meeting on Better Regulation
Sarajevo, 19 April 2018 – ReSPA organised, in cooperation with the Regional Cooperation Council (RCC), a two-day meeting on Better Regulation efforts in Western Balkans. Participants of the meeting were 20 senior public servants dealing with the oversight of Regulatory Impact Assessment (RIA) and other aspects of Better Regulation in governmental institutions of ReSPA members and Kosovo*.
On the first day of the meeting, participants exchanged up-to-date information related to RIA regulatory framework and RIA implementation in their jurisdictions. This experience exchange among peers was considered to be very useful and important. On the second day of the meeting, two topics were discussed: evidence-based policy making and public participation. Regarding evidence-based policy making, SIGMA expert Mr. Timo Ligi presented comparative analysis of monitoring results under this principle, and discussed with participants various options for enhancement in this area of policy development and coordination. Regarding improvements in the area of public participation, ReSPA and RCC are now following up with implementation of the Recommendation for public participation that was developed and endorsed last year. In order to support implementation of this Recommendation, the participants of the meeting discussed possibilities to organise peer-missions and awareness raising events. One of results of this meeting are ideas for joint activities that would contribute to enhancement of regional cooperation in the field of Better Regulation.
* This designation is without prejudice to positions on status, and is in line with UNSCR 1244 and ICJ Advisory Opinion on the Kosovo Declaration of independence.
Archive