News
23 07.18.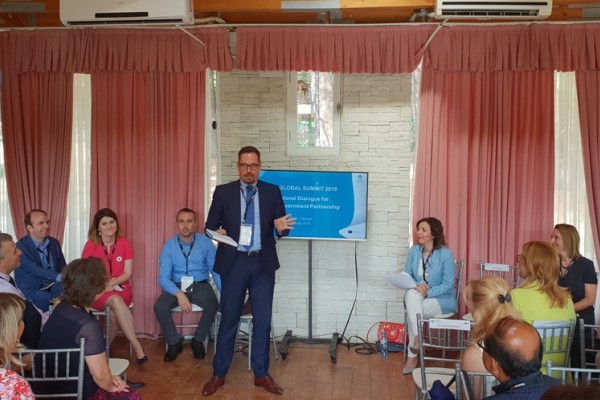 5th Open Government Partnership and ReSPA contribution
ReSPA has taken part for the second time at the Open Government Partnership Summit which was held in Tbilisi, Georgia, on July 17-19, 2018. The globally recognized event gathered more than 95 countries around the world, including high-level representatives of the Governments, International organizations, civil society, journalists and academia.
The OGP was launched in 2011 as a multilateral initiative that aims to secure commitments from governments to promote transparency, empower citizens, fight corruption, and harness new technologies to strengthen governance. This year's Summit encompassed also Open Government, Innovation and Service delivery areas. ReSPA contributed to the event by setting the panel Regional Dialogue for Open Government Partnership. During the panel Ratka Sekulovic, ReSPA Director presented the strategic and operational support that ReSPA provides to its Members, and talked about the vision of the Western Balkans as an Open Data Region. Mr Paul Maassen, Director of Civil Society Engagement at OGP, who also took part at the panel, spoke about the opportunities and challenges that OGP sees for Europe, and specifically for the Western Balkans. The panel has raised interest and presented observation on the accessibility of public services, availability of open data and public participation in the WB region. ReSPA delegates also visited Public Service Hall in Tbilisi, designed according to the One-Stop-Shop public service delivery model. The delegates had an opportunity to get familiar with how Back and Front Offices in the public service delivery chain function in a more efficient and effective mode.
OGP Summit energized the audience with the two topics: blockchains development and use of artificial intelligence in different sectors. Not surprisingly, in the light of the above-stated topics, Sophia, the most advanced human-like robot, who was created by American roboticist David Hanson, has taken part in the event. Her answers reflected that there is no reason for having fears that robots may replace people underlining that they were created to help humans.
Many answers have been provided throughout the three-day Summit, however many questions remained unresolved depending on the forthcoming technological development and its application in everyday life. ReSPA will remain devoted to providing support to the process of the digitalization and eGovernment development by producing analytical papers, organizing networking and capacity building events and with taking an active part in the OGP Summit and other similar events.
Archive