News
03 10.18.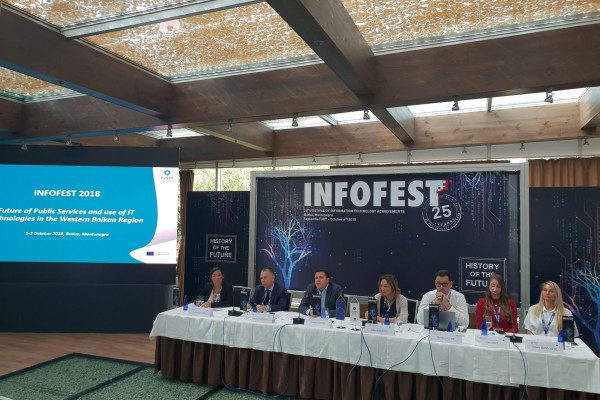 ReSPA contributes to the INFOFEST 2018
For the fourth time, ReSPA attended the INFOFEST with its activities on 1 and 2 October 2018. The event has been traditionally organized in Budva, Montenegro. At the opening, among numerous speakers, the Minister of Public Administration of Montenegro Suzana Pribiliovic stressed that digitalization is a crucial element of Public Administration Reform in Montenegro. In her speech, Ms Pribilovic complimented ReSPA as an important regional hub of the Western Balkans.
On the first day, ReSPA Panel was opened by the keynote speech of Mr Goran Jovetic, State Secretary from the Ministry of Public Administration of Montenegro, followed by the presentation of ReSPA's Comparative Study on Service Delivery in the Western Balkans. Furthermore, the World Summit Awards (WSA), a global event that gives a full attention to the best-case examples identification in the subject, was introduced by the presentation of the awarded projects.
Since the Comparative Study on Service Delivery has reiterated the need for interoperability of public services and reuse of common building blocks, ISA² Programme and European Interoperability Framework (DG DIGIT) were also included in the ReSPA panel. They provided practical information and offered concrete products for reuse in the Western Balkans in the domain of interoperability of e-services.
The second day of the event provided intensive programme within ReSPA closed session where the ISA² Programme was presented in more detail along with the USA innovation lab, eParticipation platform from the City of Madrid, blockchain experience from Lithuania, Smart city grow and smart governance presented by Shanghai Academy of Social Sciences. The event included also discussion on global trends in public services, as well as Change management which is needed for any type of Public Administration transformation including digital transformation.
Set of recommendations for the follow-up activities have been generated and it is expected to pursue dialogue with all engaged stakeholders.
Archive