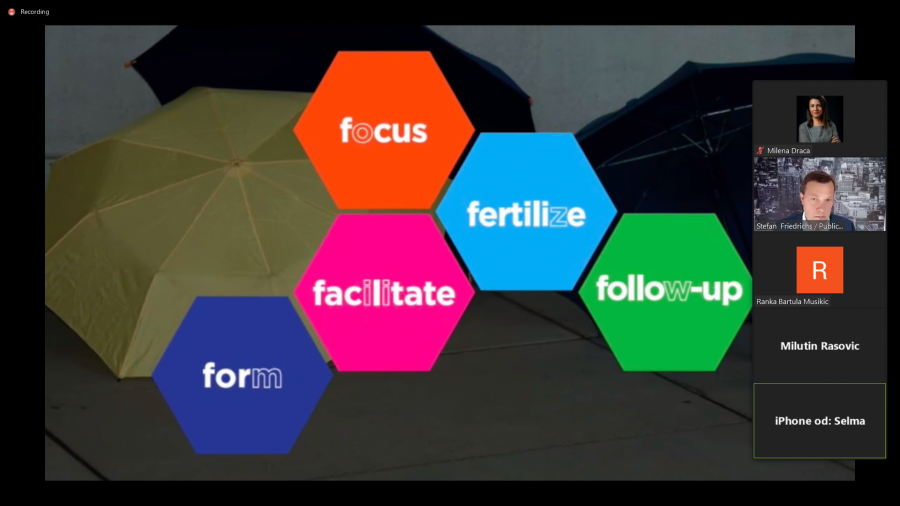 ReSPA supports Western Balkan countries in teleworking
---
First ReSPA Western Balkan online collaboration platform to support the region in remote management
ReSPA and the Public One GmbH from Berlin organized for the first time an online workshop "How to become an effective Remote Manager" on 13 May 2020.
Aimed to present remote management opportunities to our Governing Board members at senior level and HRM professionals to cope better amid the COVID-19 pandemic, the workshop gathered more than 20 senior civil servant professionals from the WB countries. They were introduced to many important aspects of managing workforce remotely, which has become one of the main topics worldwide in these challenging times.
After the workshop, we organized the meeting of the HRMD Working Group during which the participants identified some common challenges and needs related to remote human management.

EU experience in teleworking as a guideline for WB countries
Stefan Friedrichs, Public Management Consultant and Executive Coach gave an insight into best practices of using the Five F method, which offers managers, leaders and teams a simple framework for reflection and self-assessment.
In his introductory speech, he emphasized that in a remote working condition, teamwork is as important as never before. Setting routines and having good communication, as he said, are the keys to preventing staff from feeling isolated and depressed while working remotely. He highlighted that it is more important to build social dynamics and encourage employees to be a productive part of the team, than to rely on technology and tools. He addressed the participants and suggested they set regular team meetings at least once per week in addition to individual meetings, and to track down how employees are dealing with tasks and deadlines, while maintaining a proper documentation management.
Prof. Dr Stefan Jung who teaches, researches and advises on the topics of strategy, organizational and leadership development, presented various tools that could be used in remote management, focusing on team, tools/social techniques, mindfulness and Five F approach - a simple framework that includes focus, form, facilitation, fertility and follow-up steps that are simple stepping stones in remote management. He advised the participants of the workshop that in a new – remote work setting, it is equally important to manage the team and to choose proper tools and techniques to reach the target outcome. It is also important to set communication protocol and to give team members a clear structure in their work with defined rules, tasks and timeline so they can stay focused while working remotely. Also, he emphasized that proper tools for remote working should be chosen with respect to key capabilities needed for remote management such as: think visually, share content, stay organized, communicate in real-time and communicate asynchronously.
Human Resource Management needs and challenges among WB countries caused by the pandemic
At the beginning of the working meeting, we presented the COVID-19 Western Balkans Digital Collaborative platform as ReSPA's unique response to the pandemic. This time, the HRMD WG members pointed out some common key issues, challenges and needs related to human resource management that need to be addressed.
Merit-based recruitment during emergencies, challenges in organizing work from home and conducting performance appraisal, potential shifts in training needs and organization of professional development events were the main topics.
During the meeting, human resource management professionals underlined that most of the existing HR procedures require physical contact, which is not possible in situations like COVID-19 or any other crisis situation. All that requires a change in the procedures.
Some other WB countries' issues discussed were: need for changes in legislative frameworks (they need to be modified and adopted with a focus on e-recruitment procedure), active involvement of employees who resist to changes and online work caused by this situation, use of proper tools and methods for motivating employees to finalize tasks successfully, etc.
ReSPA's support for human resource management in public administration as a solution to move WB countries forward during and post the pandemic period
The countries exchanged their experience in overcoming some of the identified problems and informed about the initiatives undertaken. A need for further exchange of good practices was recognized as important, as well as ReSPA's role in facilitating this process.
In the upcoming days, ReSPA will prepare a document that will summarise the challenges faced during the COVID-19 pandemic that were presented at all relevant ReSPA meetings organized so far, including today's meeting related to HR issues. The participants were invited to use ReSPA mechanisms of support to address the issues.
"Through these kinds of events, we want to support the human resource teams in WB countries in overcoming challenges by sharing best practices related to remote management and providing tailored-made support to cope with the pandemic, recover fast and make visible progress in the years to come. ReSPA will continue to support WB countries to overcome detected challenges, through ReSPA mechanisms of support: in-country support mechanism, mobility scheme and peer to peer learning" highlighted Ranka Bartula-Musikic, ReSPA Programme Manager at the end of the meeting.