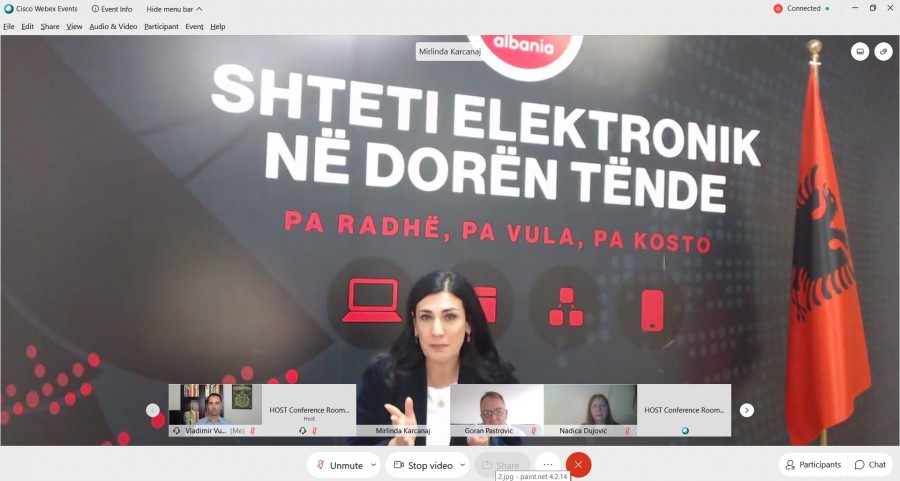 Digital Transformation for the Public Sector and Innovative Practice
---
ReSPA, UNDP and NALAS panel at the 3rd Western Balkans Digital Summit 2020
The 3rd Western Digital Summit has been organized online during 26-28 October 2020 with the Digital Ministerial as a concluding event of the Digital Summit 2020 on 2 November 2020, in Tirana. It was organized in the framework of the Berlin Process and the Multi-Annual Action Plan on Regional Economic Area (MAP-REA) for the Western Balkans and aimed at showcasing good practices in the Western Balkans, highlighting the achievements and outcomes of the Digital Agenda, and exploring possibilities of building partnerships with the private sector, in the context of the digital transformation process.
The summit promoted the Western Balkans digital perspective in the context of EU integration, while was drawing the Path Ahead in the Digital Agenda, in order to prioritize the key objectives for the region. The Digital Summit covered 4 main platforms: Network & Services Connectivity, Trust and Security, Digital Skills and Digital Economy.

As part of the Western Balkans Digital Summit 2020, ReSPA organized panel entitled "Digital Transformation for the Public Sector and Innovative Practice", jointly with UNDP and NALAS.
The panel was moderated by Mr Goran Paštrović, ReSPA Programme Manager and Ms Lejla Sadiku, Programme Specialist, Innovation, UNDP Regional Bureau for Europe and Central Asia,
Mr Vladimir Vulić, Multisectoral analysis of the WB administrations in the situation of COVID-19, ReSPA Senior eGovernment Expert and Co-funder of Digitalizuj.ME;
Ms. Nadica Dujović, ReSPA Senior Expert in Communications, Role of Crisis Communications in the pandemic situation;
Mrs Mirlinda Karcanaj, General Director, National Agency on Information Society, Albania
Mr Denis Turkanović, Assistant Minister, Ministry of Scientific and Technological Development, Higher Education and Information Society of the entity of Republika Srpska, Bosnia and Herzegovina;
Mr Slobodan Marković, Digital Transformation Expert, UNDP Accelerator Lab in Serbia.UNDP;
Mr Kemal Bajramovic, Head of Experimentation at UNDP Accelerator Lab in Bosnia and Herzegovina;
Mr Darko Mrvaljević, Regional EU expert NALAS, SEE Local Governments in Post COVID-19 Socio-Economic Recovery - NALAS survey
ReSPA, UNDP and NALAS have taken an active role in identifying the needs of their stakeholders in the situation of pandemic, produced different reports, organized several important online events and provided valuable and practical recommendations for the follow up.
Lightning talks, where the session moderator curate speakers to use storytelling to present their inspiration cases and share models and solutions for challenges identified. It was used to brainstorm ways to tackle these challenges and explore concrete experiences and transferable best practices and solutions for transforming the Public Administration into more adaptable, resilient, open and connected at the local, national, regional and international level.