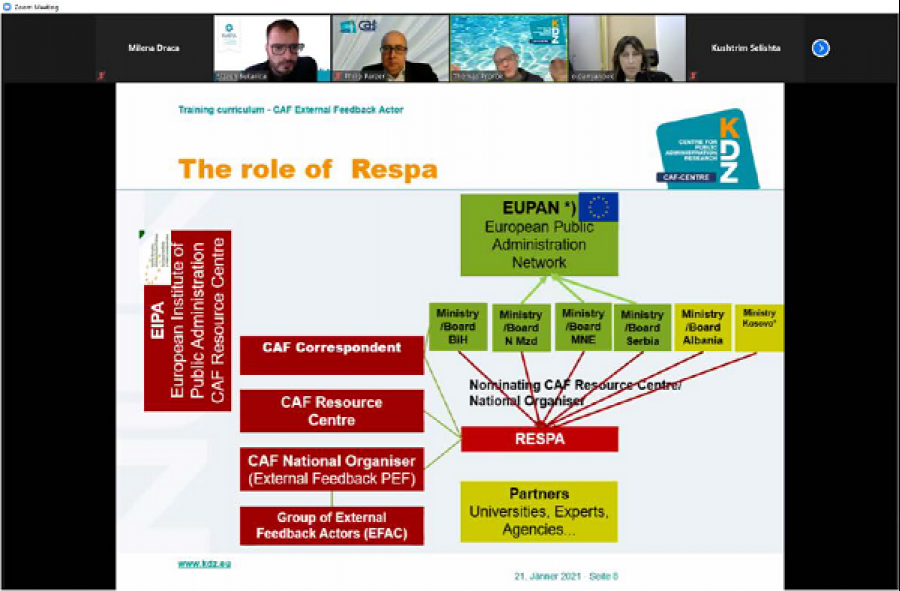 ReSPA and KDZ have organised the first Module of the External CAF Feedback Expert (EFAC) training
---
ReSPA in cooperation with KDZ and within BACID II project has been organising three-module trainings on CAF External Feedback Process (PEF) for CAF correspondents and practitioners in the Western Balkans as well as for the ReSPA Staff.
After successfully completing the three module training program, the participants will be equipped with the knowledge on how to deliver a Professional External CAF Feedback Procedure and obtain a certification of KDZ as "CAF External Feedback Actor. (EFAC)". Therefore, future EFACs will be in position to implement the external CAF feedback procedure in their countries.
Upon the completion of the training ReSPA will establish CAF External Feedback Actors Newtork which will gather all EFAC practitioners from ReSPA member countries in Western Balkans. ReSPA will host and support this Network within the CAF Regional Resource Centre as the integral part of the ReSPA Regional Quality Management Centre (RQMC).
The first Module, organised as a two-day virtual training, was devoted to Quality Management approaches for improving the Public Sector. It gathered around 40 participants who were introduced with the Quality Management in Public Sector (Principles, Instruments, Practices), some of the CAF Best Practices (City of Kuopio), CAF 2020 Model (Concept, Process, Scoring), the CAF External Feedback Procedure and CAF Maturity Lab.
Thomas Prorok, Deputy Managing Director KDZ and Philip Parzer, senior consultant at the KDZ guided the attendees through the procedure for External Feedback – Effective CAF User focusing on the three pillars (quality of self-assessment, improvement plan and principles of excellence) as well as on the steps of the PEF procedure by highlighting the importance of ReSPA as a CAF-Organizer for its Member countries.
They also presented CAF2020 - the revised, fine-tuned CAF model to better respond to the development and evolutions in public management and society by focusing on digitalisation, agility, well-being, sustainability and diversity. Through the cause/effect relation between organisational factors and performance results, the trainers explained how the CAF2020 corresponds with the premise that excellent results in organisational performance, citizens/customers and society are achieved through leadership driving strategy and planning, people, partnerships, resources and processes.
Ms Joaana Ilomäkiworks as a member of EIPA Working group developing CAF2020 model and EFQM external evaluator, presented the CAF and PEF implementation in the Finish municipality of Kuopio from the EFAC perspective.
In a dynamic atmosphere, the attendees briefly went through the Common Assessment Framework, CAF External Feedback Procedure and got informed about CAF best practices and shared their impressions and lesson-learned.
The next Module of the training – The External CAF Feedback Process will occur on 11 – 12 February 2021 and the third on 18-19 of March.