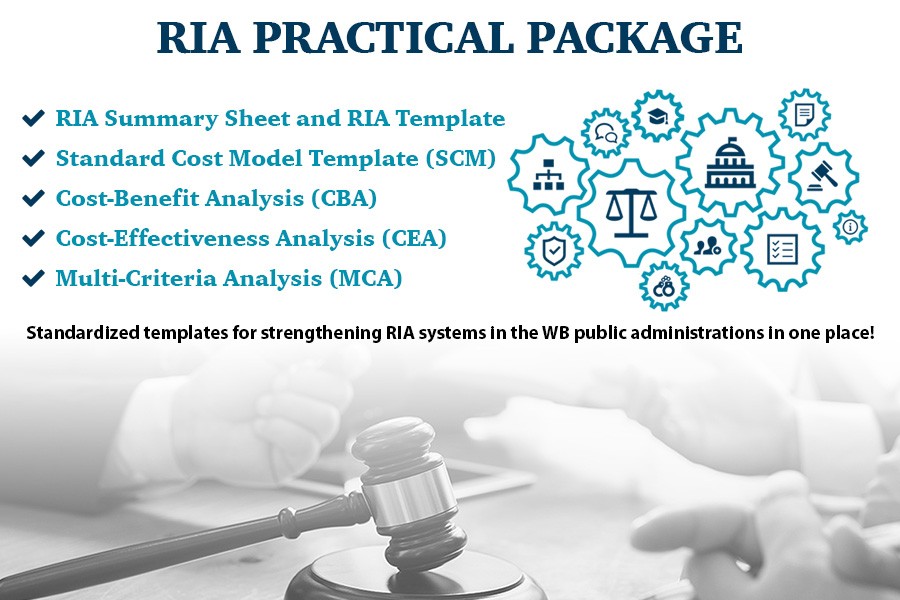 ReSPA developed sets of standardized templates for strengthening RIA systems in the WB public administrations
---
"Practical RIA package" - sets of standardized templates for strengthening RIA systems in the WB public administrations in one place!
ReSPA developed the "Practical RIA package" aiming to support the public administrations in the Western Balkans to improve their competencies and capacities in the domain of Regulatory Impact Assessment (RIA).
"Practical RIA package" consists of a set of standardized templates and guidance documents (including brief explanations and practical tips on how to fill the templates):
RIA Summary Sheet and RIA Template
Standard Cost Model Template (SCM)
Cost-Benefit Analysis (CBA)
Cost-Effectiveness Analysis (CEA)
Multi-Criteria Analysis (MCA)
Depending on their needs, the administrations and practitioners from the Region and beyond can use all or some of these documents in their internal RIA frameworks.
Download the Practical RIA Package HERE.
Download the Standard Cost Model (SCM) Excel form HERE.
Strengthening the Impact Assessment framework in the Western Balkans remains an essential prerequisite for the smooth EU acquis transposition into national legal systems.