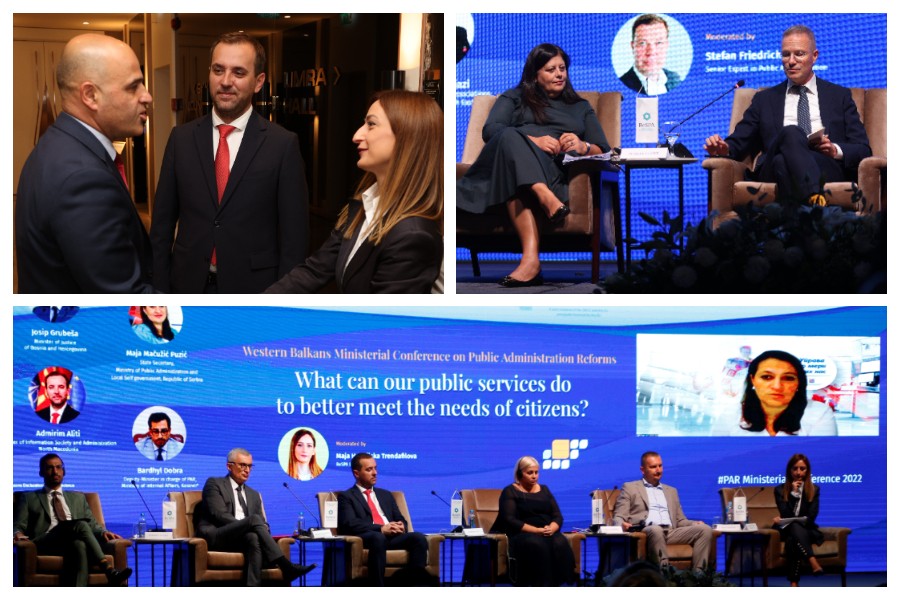 High-level political dialogue on Public Administration Reform brought new insights and actions to be taken toward sustainable and inclusive growth and job creation in the Western Balkans
---
ReSPA with support of OECD/SIGMA, at the Western Balkans Ministerial Conference on Public Administration Reform (PAR), brought together ministers and high-ranking EC representatives in charge of PAR as well as the most important PAR actors from the region to discuss the future of citizen-centered approach in governance, digitalization agenda, transparency, and decisive political leadership as a cornerstone of public administrations' organizational, technological, and cultural transformation that enhance the welfare of citizens.
Dimitar Kovačevski, Prime Minister of North Macedonia, Admirim Aliti, Minister of Information Society and Administration of North Macedonia, Milva Ekonomi, Minister of State for Service Standards of Republic of Albania, Josip Grubeša, Minister of Justice of Bosnia and Herzegovina, Maja Mačužić Puzić, State Secretary, Ministry of Public Administration and Local Self- Government, Republic of Serbia, Dragiša Janjušević, State Secretary of Ministry of Public Administration of Montenegro, Bardhyl Dobra, Deputy-Minister in charge of PAR of Ministry of Internal Affairs Kosovo* and highly-ranked officials from the European Commission, Daniele Dotto, Deputy Director and Head of Unit for governance and public administration at DG REFORM and Florian Hauser, Team Leader for PAR at DG NEAR, and many other highly-ranked officials from the Western Balkans discussed implementation of reforms, good governance agenda, recovery and regional growth.
Speakers and panellists, while acknowledging the substantial progress made in this regard, concluded that, enhancing trust in public sector shall be a priority in the Western Balkans, while an impartial public administration is key for attracting and developing talents in public sector. European Commission practitioners emphasised that Public Administration Reform, in addition to being an important pillar of EU accession process, is a crucial tool towards democratic and resilient societies in the Western Balkans.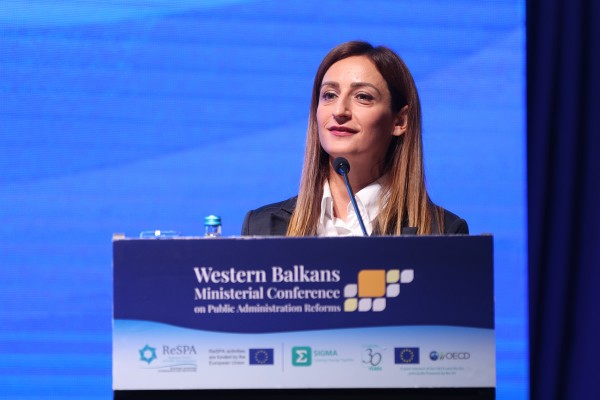 "ReSPA as a leading regional institution for public administration development in the Western Balkans focuses on high-level regional cooperation and facilitation of regional exchange with the European Commission. Today we witnessed the highly productive impulse talk among the most prominent PAR actors from the region and the European Commission on important aspects for further change of public service values, mindsets and practices, digital government, shifts and next steps to be taken in public administrations to meet better citizens' and businesses' expectations and deliver growth-enhancing reforms. Being aware that individuals and businesses can only thrive if the governance works for them, we will continue to focus on the highest-level buy-in and deepening the regional dialogue at the highest level and cooperating with the EU towards a better life for all citizens in the region" emphasized Maja Handjiska – Trendafilova, ReSPA Director.
The conference resulted to be a unique forum of the exchange of practices and mutual learning for around 150 practitioners and public servants across the region and international guests and speakers.
If you want to download photos click HERE
Recorded Livestream is available HERE
---
* This designation is without prejudice to positions on status, and is in line with UNSCR 1244 and ICJ Advisory opinion on the Kosovo Declaration of independence