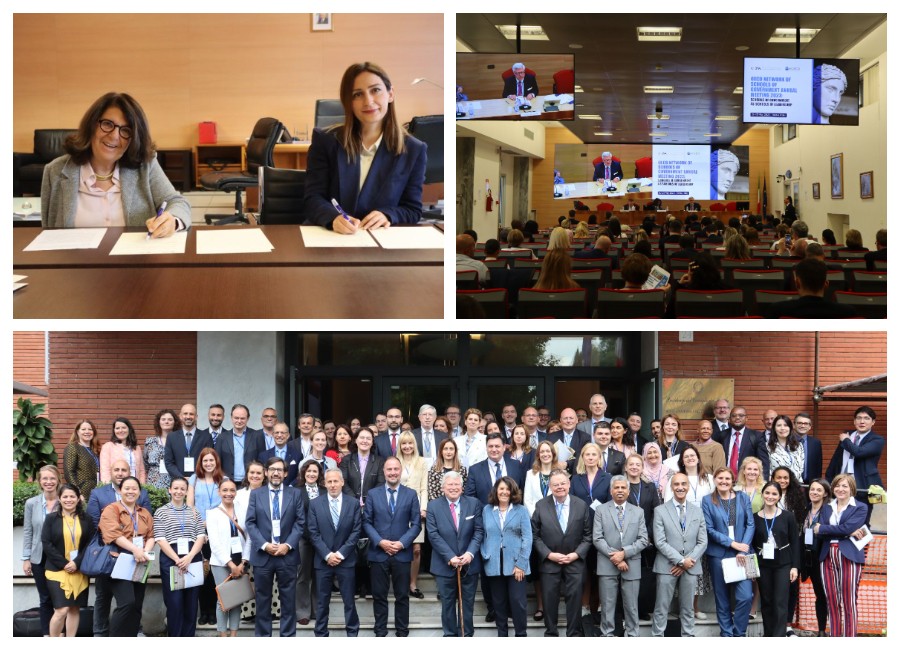 ReSPA Contributed at the 10th Annual Meeting of the Global OECD Network of Schools of Government and Signed MoU with Italian National School of Administration
---
22-24 May, Rome, Italy
ReSPA representatives contributed to the 10th Anniversary Annual Meeting of the Global OECD Network of Schools of Government, organized by the OECD and the Italian National School of Administration (SNA).
Prominent experts, academics and leaders from the institutes and schools of government across the globe discussed important issues, some of them were:
How Schools can contribute to enhancing leadership in public administration?
How Schools can act as leaders by driving the skills and knowledge agenda and defining the structure and content of learning systems?
Can Schools address skill gaps and foresee future skill needs and capacity-building requirements?
How can Schools actively lead and drive the agenda around skills, capacities and learning systems?
What can Schools do to best lead in the preparation of public service for coming challenges?
Are there any constraints for Schools to act as leaders?
The Meeting also discussed how senior public servants are finding themselves drawn into political debates they could once avoid, and how Schools can train the communications and diplomacy skills required. It was also a good opportunity for sharing examples of ways some schools are helping leadership in government outside of the public service be better prepared for their roles, by teaching them how government works, how to work effectively and cooperatively alongside public servants, and training their leadership competencies. Finally, the place of Schools as leaders in the overall functioning of administrations is understated and emerging, and many governments are recognising this by placing new or added emphasis on Schools.
On the margins of the Meeting, Maja Handjiska Trendafilova, ReSPA Director and Paola Severino, President of SNA (Italian National School of Administration) signed a Memorandum of Understanding as a framework for boosting collaboration, aimed at enhancing administrative capacities in Western Balkans.
"Exchange and synergies with EU Institutes and Schools of government are crucial for continuous enrichment of ReSPA's program of work and bringing the latest trends from the EU public institutions to the region. Signing the MoU with SNA marks the first step in the joint work on the co-development and joint deployment of learning activities for the benefit of civil servants from the Western Balkans. Experiences from such a staunch supporter of the regional cooperation and EU integration agenda of our region as Italy are especially highly-regarded" said Director Handjiska-Trendafilova.