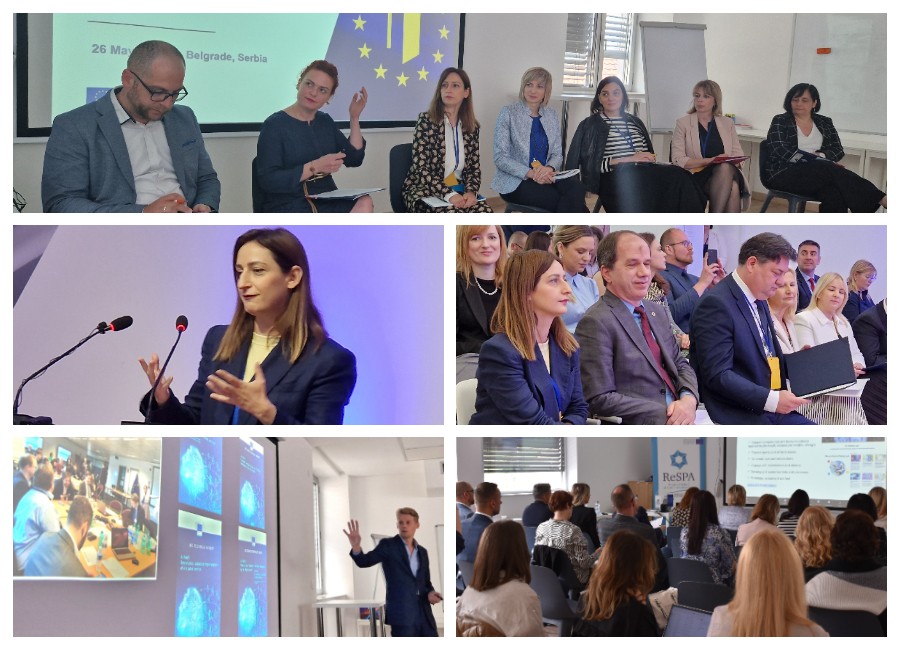 ReSPA Panel and Workshop Enriched the 31st NISPAcee Conference
---
25-27 May 2023, Belgrade, Serbia
The 31st NISPA Cee Annual Conference "Future of Public Administration through emerging technologies" tackled the role of public administration in rapidly accelerating socio-economic changes taking into account the opportunities offered by new technologies, as well as developing new services aimed at openness, transparency and citizen participation accordingly. Speakers from around the world also emphasised the role of new technologies in modern societies and their impact on public administration: the role of the public sector in the fourth industrial revolution, as well as the challenges of implementing new technologies in the transformation of public administration.
ReSPA brought into the conference the experience and knowledge of 15 public servants from the Western Balkans, who had an active role in various sessions, panels and workshops of the Conference. Among other opening session speakers, ReSPA director Maja Handjiska Trendafilova highlighted that "What is certain is that the pressing challenges and emerging crises are leading to "tectonic" changes for the public sector. For facing those changes we need a resilient and anticipatory public sector, and ReSPA is working already in this direction, as a regional platform of knowledge, learning, mobility and exchange of know-how on the latest trends and tools"
Panel discussion "Building public sector resiliency through strategic foresight and innovation" moderated by Gentian Xhaxhiu, ReSPA Programme Coordinator, tackled how to build a resilient public sector to address the crisis through strengthening strategic foresight and innovation.
Anni Lehari, from the Estonian Government Office and Anne-Katrin Bock from the Joint Research Centre of EC, presented the latest trends in this area at the European level while representatives from ReSPA Members discussed the Western Balkans context: their experience gained from recent crises, actions undertaken and plans to strengthen resilient governments, organizations and society.
Elisa Stamo, Sabahudin Suljevic, Vesna Simonovic, Kalinka Gaber, Ljiljana Uzelac and Snezana Antonijevic brought added value to the panel and helps us in ReSPA to map what kind of support they need on their way to build resilient organizations!
Workshop "Digital Transformation and Artificial Intelligence (AI) in Public Administration" moderated by Olivera Damjanović, ReSPA Programme Manager, focused on the deployment of AI in public administration.
Collin Van Noordt, from Digital Nation, Estonia presented the modalities of using AI in public administration when for policies making, improving and creating new public services or for better internal management while shedding light on benefits and challenges when piloting AI and the need to ensure adequate and sufficient human resources to properly use the technology.
Milan Stojkovic and Nikola Nikolov, representatives of the Institute for Artificial Intelligence Research and Development of Serbia and the Ministry of Information and Public Administration, North Macedonia shared information about a few AI projects and services developed by these institutions.
Attendees discussed the specificities of conditions in public administration to start using AI, applying human-centric design for AI services and strategic approaches to enhance the use of AI in public administration.
Both ReSPA sessions attracted the interest of various participants in the Conference and were characterized by lively discussions, brainstorming and scenario development. ReSPA took note of the necessity to intensify its actions towards strengthening foresight capacities in the Western Balkans, for building public services that are capable of preparing for future uncertainties.