Articles
23 11.10.
Ratification of International Agreement: Interview with Blerta Selenica (Albania)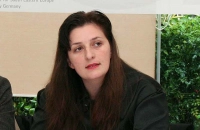 Blerta Selenica is Director, Department of Public Administration (DoPA) and ReSPA Governing Board Member at Senior Official level (Albania)
What is your reaction to the ratification of the International Agreement establishing ReSPA?
The challenge of having a merit-based, effective and motivated public administration and civil service is an important and at the same time difficult process for all societies. However, this process is even more challenging for developing countries such as those of the Western Balkans. The ratification of the International Agreement establishing the Regional School of Public Administration (ReSPA) in Danilovgrad on the part of six countries of the Western Balkans marks an important step towards reaching the common goals of our administrations, such as increasing regional cooperation in the field of public administration, developing human resources and strengthening administrative capacities.
As Director of DoPA and also a member of the Steering Committee of ReSPA, what is the importance of the IA to you?
The ratification of the International Agreement shows the commitment of the member countries to developing their respective administrations and I am proud to mention here that Albania was the first country to have ratified it.
Public Administration is a crucial body in implementing reforms, whose role in the European integration process is of ever-increasing importance. The process of integration in the European Union is a real universe of reforms, laws, decisions and their implementation, which are drafted and implemented by the public administration. With the institutionalisation of ReSPA, these countries now have a common tool through which they can develop cooperation in the process of preparing their administrations for the EU integration process.
What does ReSPA mean for you, and why are you supporting it? How far is ReSPA contributing to the Albanian Public Administration?
ReSPA has been organising training events for several years already and the results have been very positive for Albanian civil servants and I believe for all ReSPA member states. It is of great importance to note that during these training activities the participants not only extend their knowledge, but also have the possibility to present their civil service systems and make evident various challenges and goals faced by their administrations. Thus by participating in ReSPA activities, civil servants of ReSPA member countries have the possibility to discuss the various similarities, differences, obstacles and possible solutions relating to public administration reforms.
To conclude, I would like to state that the establishment of ReSPA is without any doubt considered as by far one of the most important regional activities in the area of public administration development, which will contribute to the strengthening of human resource capacities of ReSPA member states, the improvement of cooperation between the public administrations of our countries, as well as the reinforcement of administrative capacities, in order for our administrations to be competent in facing the challenges of European integration.
Archive