Articles
26 04.11.
"Managing Changes in Public Administration" (April 2011): Interview with Ermira Mitrushi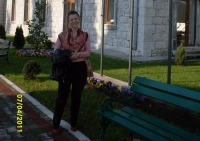 Ermira Mitrushi, Manager, Training Institute of the Public Administration (ITAP)
What were your expectations when applying for the course?
When I applied to participate in the training activity on Managing Change in Public Administration organised by ReSPA, I felt I needed to gain more knowledge on the changing process as a concept, as well as corresponding tools and steps, and how all of this should be managed. Every change brings new innovation but also new responsibilities, meaning it should be supported with activities or initiatives to make it sustainable. I was sure that the experiences of other participants from the region as well as those of the trainers would match my expectations for this course.
To what extent would you say these expectations were met?
I can say that by the end of the training course I could understand not only in theory but also in practice what makes changes necessary, the steps that any changes should go through or 'pass', the main actors and how the results accompanying the whole process should be managed. The exchange of experiences with the other participants and the analyses of the working groups were quite important to understand the whole process in practice.
How has the attendance to the training influenced your work?
I was particularly interested in attending the course because I could acquire some more knowledge that I could use in the training organised at the Training Institute of the Public Administration (ITAP). I am now thinking of proposing and organising training on Managing Change in the Public Administration within our institution for the public administration of Albania. I think we have the capacities, possibilities and experts to provide such training in the near future.
How far has the knowledge you acquired during the course been transferable to or useful for your daily work?
I learned a lot from this training and I am confident that I will apply the knowledge gained in my daily work.
Have you kept in contact with the other participants?
During the training course I made a lot of contacts among the participants; indeed the experiences that everybody shared were quite important for me. I would also like to express my highest consideration for the trainers as well.
Do you have any other comments or feedback regarding the course?
Generally the training was well organised, but I would like to make a comment concerning the time allocated for the practical exercises. I would suggest that it is necessary to have some more time for the working groups, as this is a good means of communication and the participants feel more connected to each other and to the course as well. Thus they can express more personal ideas or experiences on different issues from their own work.
I would also like to add that the training environment, the accommodation and the food were very good. It was such a well organised event.
Archive