Articles
26 04.11.
"Management Concepts and Skills for Senior Civil Servants" (March 2011): Interview with Lindita Dedegjoni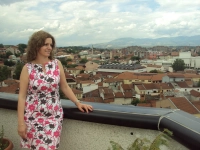 Lindita Dedegjoni, Director of Human Resources Department, Ministry of Interior
What were your expectations when applying for the course?
I expected to have a chance to discuss common problems in the implementation of human resources (HR) practices with colleagues in the region. I also expected to have a chance to brainstorm and to try to find some innovative answers, or at least some acceptable solutions. I expected the institutions dealing with HR as well as HR units of the countries of the region to exchange their experiences on the implementation of their domestic Civil Service legislation. But I also expected to hear the experiences of EU countries.
To what extent would you say these expectations were met?
I would say that my expectations were met in this course. I have to say that knowledge of new concepts is very important for me in my daily work. Some regional experiences were presented and discussed and common problems identified, and I think that this is an important issue to be addressed even in other training activities concerning our specific regional problems. I also think that the experiences shared among the participants and also the instructive examples given by the trainers were used well in order to learn some valuable lessons. The problems of the countries of this region are specific and there is a need to work together to find new ideas, principles and standards. I particularly appreciated the way in which the trainers communicated the concept of trust to us, which we should transmit to our other colleagues by giving duties and asking for greater responsibilities.
How has the attendance to the training influenced your work? How far has the knowledge you acquired during the course been transferable to or useful for your daily work?
My knowledge regarding the systems of appointment and recruitment of civil servants has been improved and I will definitely use it in my future work. During the course I gained some new ideas about the different possibilities for creating programmes of specialised staff training. I will try to learn more from the experience of the new EU Member States, particularly their successes and mistakes, although I believe that there is not so much written analysis available. It will be useful to have contacts with colleagues in the region, for future information and comparison.
Have you kept in contact with the other participants?
Absolutely. Having in mind that our cultures are very much alike and that we have almost the same problems, I am already in contact with some of them and we have established good cooperation. I have also made some new acquaintances and we have exchanged our contact details with a view to cooperating in the future. I hope that we will stay in contact and that we will have the chance to meet again and exchange our experience.
Do you have any other comments or feedback regarding the course?
The overall concept and organisation of the course was very useful, and the accommodation provided was comfortable and adequate. The trainers were very well prepared and the experiences and subjects presented during the course were quite appropriate to all of us.
Archive